Macro information
Congress and White House are about to reach agreement on a two-year debt ceiling
The immediate withdrawal of the world's central banks means that the era of short-lived quantitative austerity will come to an end.
The Bank of Korea lists Japan's high-tech export restrictions as one of the three major economic risks
Local private investment has warmed up one after another to restore the charm of attracting money in the manufacturing industry.
The 2019 local economic semi-annual report has been released one after another.
Metal news
[SMM afternoon Review] Shanghai nickel fell 1.5% Shanghai lead fell 1% metal whole line float green iron ore coking coal fell more than 1% black system green flag fluttered
[SMM Review] non-ferrous metals concussion in early trading focus on their fundamentals
OZ Minerals raises copper production target Q2 copper production target for fiscal year 2019 to 28525 metal tons
BHP Billiton iron ore has fully resumed production
ICSG: April 2019 Global refined copper market shortage of 96000 tons
China's imports of scrap copper fell 15.8% in June from a year earlier. Alumina exports fell sharply by 96.8%.
[SMM afternoon Review] East China Aluminum: aluminum prices fall for two consecutive days downstream manufacturers and traders are more willing to receive goods
Speed up the reform of state-owned assets of Chinalco: the plan will be implemented after it has been submitted to SASAC for approval.
Longji shares sign a total of 5.324 billion yuan photovoltaic aluminum frame procurement contract
Shanda Mining pays 109 million yuan for 44 per cent stake in Deyun Mining, which owns lead and zinc polymetallic mines
SMM July 23 other areas 1 # lead market KuaiBao
SMM July 23 market news on lead reduction
July 23 Tianjin zinc spot news: the holder is willing to push the price stronger market transaction is flat yesterday
July 23 Guangdong zinc market news: traders trading differences in the market transaction difference
[SMM Shanghai Xi KuaiBao] the buying interest in the Shanghai tin spot market is weak.
Vale plans to invest US $5 billion in the construction of a nickel plant and Chinese enterprises will make great strides to open up the market.
[SMM Financial report] Manganese Industry in Europe: focus on the Development of Chvaletice Manganese Project Resources
Circular of "Circular on continuously strengthening the order rectification of rare Earth Industry" forwarded by the Economic and Information Office of Sichuan Province
Rare earths in the south: most of the rare earth oxide prices announced this week were flat from the previous month
Vale's production and sales report for the second quarter of 2019: affected capacity is recovering
Realization of "double more than half" of main production and Management Indexes of Gold in China
The guided price of stainless steel plant in Wuxi area fell 150 yuan to 300 yuan per ton during hot and cold rolling. [SMM stainless steel plant guide price] Wuxi stainless steel plant guide price fell 150 to 300 yuan per ton.
Wuxi Taiyuan Iron and Steel Co., Ltd. Spot daily guide price hot rolled down 200yuan / ton. [SMM stainless steel plant guide price] Wuxi Taiyuan Iron and Steel Co., Ltd. Spot daily guide price hot rolling down 200yuan / ton
Tibet Mining Industry expects first-half net profit to increase by 91.94 per cent from-3 million yuan to-2 million yuan compared with the same period last year
Related news
[stock Market afternoon Review] Science and Technology Innovation Board's second day of shares fell and the semiconductor sector of the main board technology stocks showed a strong performance.
Research and analysis of single particle 3D observation model of battery electrode active material in Korea is expected to help improve battery energy efficiency.
Real estate development investment growth rate slows down in the second half of the year, infrastructure investment gap remains to be made up.
The net profit of 965 companies is expected to grow in the first half of the year, the iron and steel automobile industry chain is bleak.
Tesla Shanghai Super Factory strives to realize the first Phase of partial production in December
Science and Technology Innovation Board's smooth "shock absorption" measures are effective in opening the market.
In the second half of the year, the fierce game between supply and demand, the fluctuation of oil price will intensify.
July 23 spot price of SMM metal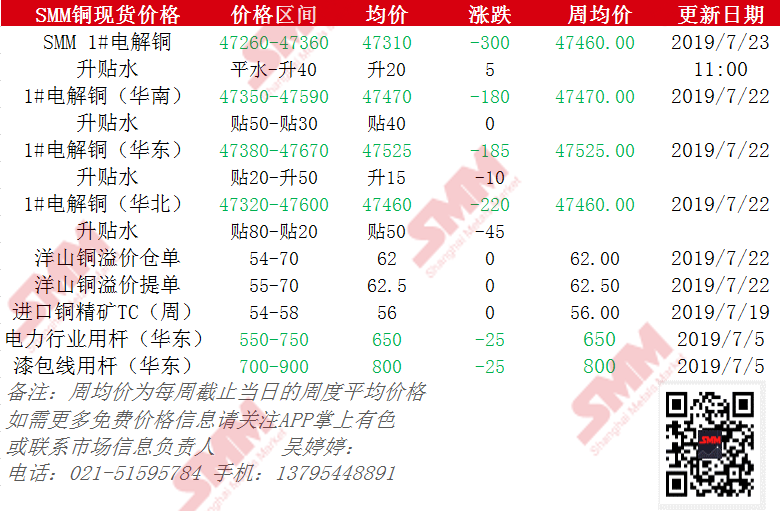 "Click to view SMM exclusive spot metal price historical data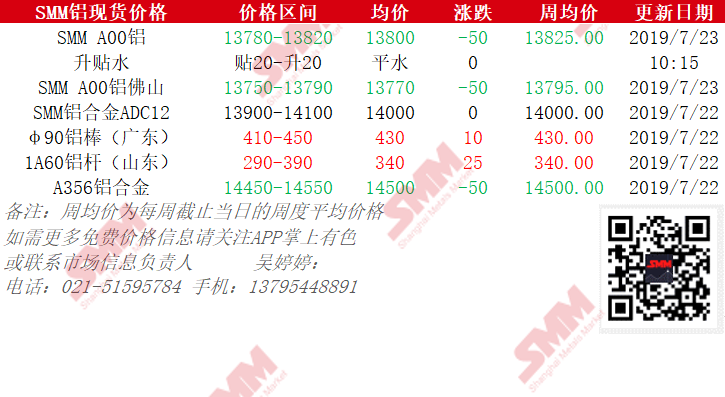 "Click to view SMM exclusive spot metal price historical data

"Click to view SMM exclusive spot metal price historical data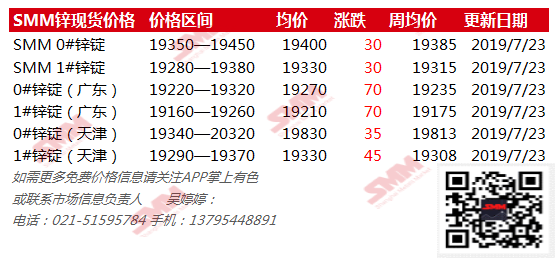 "Click to view SMM exclusive spot metal price historical data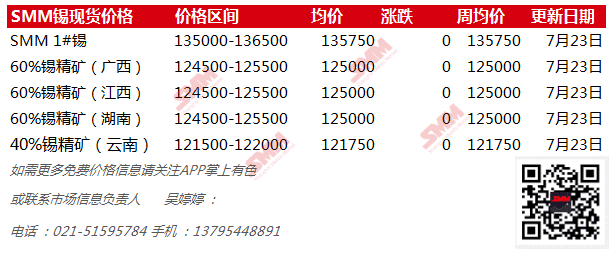 "Click to view SMM exclusive spot metal price historical data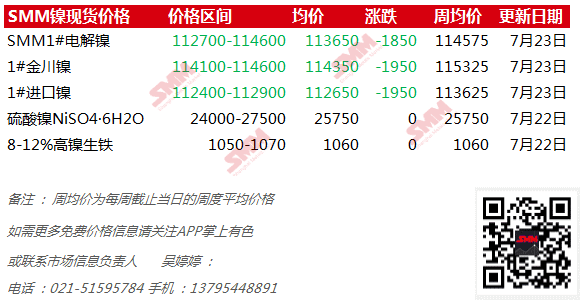 "Click to view SMM exclusive spot metal price historical data
"Click to view SMM exclusive spot metal price historical data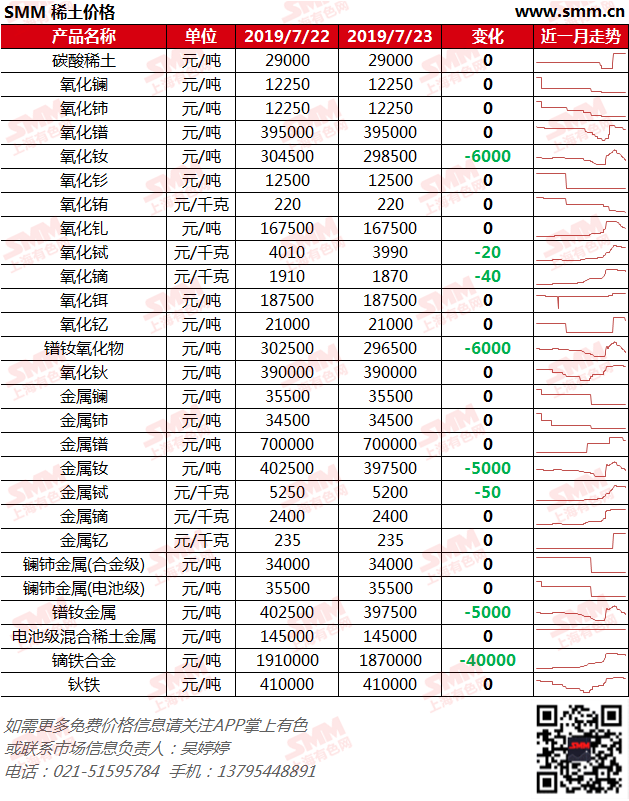 "Click to view SMM exclusive spot metal price historical data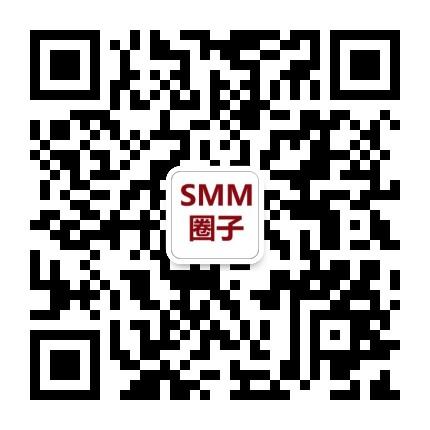 Scan QR code and apply to join SMM metal exchange group, please indicate company + name + main business