SMM3, March 26 News: recently, manganese silicon futures prices continued to decline after a brief pullback, closing on March 26, closing at 7636 yuan per ton, down 1.14 percent on the same day.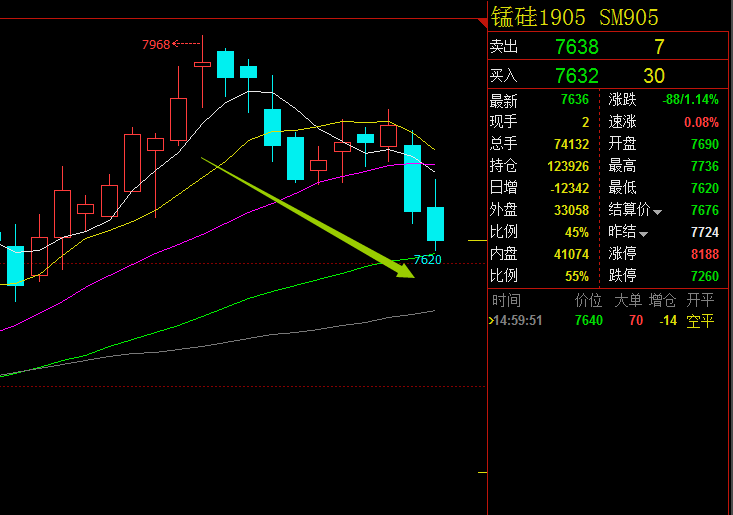 Overview of Manganese and Silicon Futures
Silicon-manganese alloy is an alloy composed of manganese, silicon, iron and a small amount of carbon and other elements. It is a widely used ferroalloy with large output. It is a common compound deoxidizer for steelmaking. The deoxidization effect is remarkable, and it is also in production. Low carbon iron and electrosilicothermic method are used to produce reducing agent of manganese metal. Silicon-manganese alloy can be smelted by continuous operation in large, medium and small ore furnaces. Silicon and manganese are more in southwest China, Yunnan, Guizhou, Guangxi and Hunan. The raw materials for the production of Si-mn alloy are manganese ore, manganese-rich slag, silica, coke and so on. The common brands are FeMn68Si18, FeMn65Si17 and FeMn60Si14.
Manganese silicon standard contract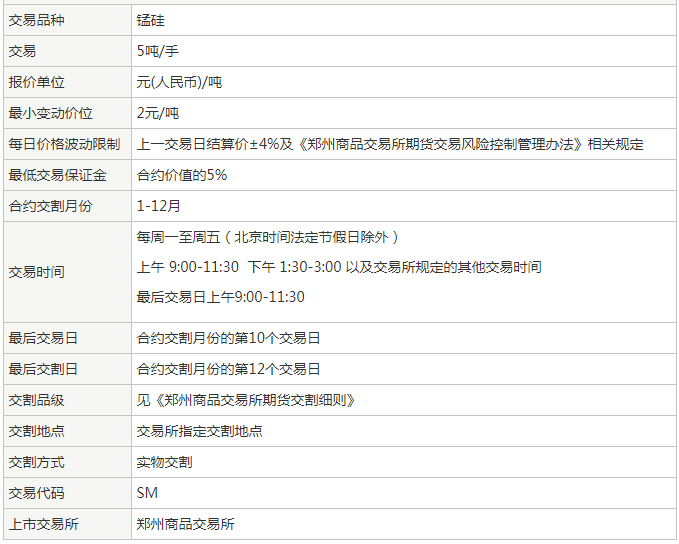 (source: Zhengzhou Commodity Exchange)
Manganese silicon cutting standard
In accordance with the "National Standard of the people's Republic of China" (GB/T 4008), the grades are FeMn68Si18 (manganese content ≥ 65.0%, silicon content ≥ 17.0%, carbon ≤ 1.8%, phosphorus content ≤ 0.25%, Manganese silicon with sulfur ≤ 0. 04% and particle size of 10-60mm, Among them, the particle size deviation under the screen is not more than 5%, and the material on the screen is not more than 8%.

Manganese silicon futures delivery warehouse
Manganese and silicon designated delivery warehouse: Tianjin whole process Logistics and Distribution Co., Ltd., Quzhou Dongzhi Birch Biotechnology Co., Ltd., Jiulong Iron and Steel Logistics Co., Ltd., Jiangsu Wujin Port Co., Ltd., Hubei Reserve material Management Bureau 33. China Reserve Development Co., Ltd. (two storage points of Xingang Branch and Tanggu Branch), Tianjin Zhongchu Lutong Logistics Co., Ltd., Henan Wanzhuang Anyang Logistics Park Co., Ltd., Rizhao Grain Gold Grain and Oil Trading Co., Ltd., CICC Nanjing Logistics Co., Ltd.
Delivery warehouse directory: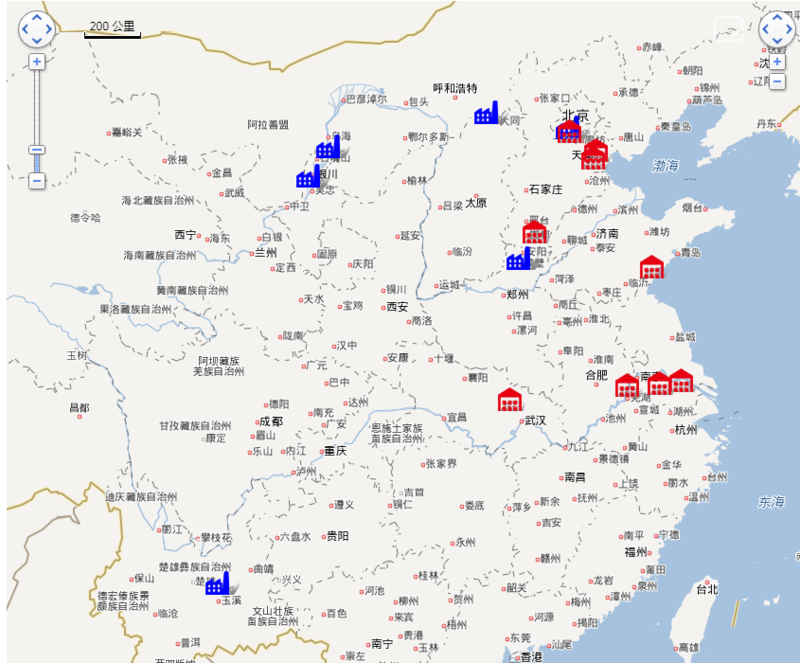 Delivery warehouse manganese silicon liter discount
Bit: yuan / ton


The main factors affecting the Futures Price of Manganese and Silicon
Guotai Junan Futures said that ferroalloy is mainly produced by electric furnace, high power consumption, the need for rich and cheap power resources. France became a major producer of early ferroalloy, and Norway became the largest exporter of ferroalloy in the 1980s and 1990s, based on the local rich hydropower resources. The production of ferroalloy is a process of high energy consumption, and energy accounts for a large proportion of the cost structure of ferroalloy. In terms of the main varieties of ferroalloy manganese, chromium and silicon, in addition to the rich domestic resources and low price of silica, about 1/3 manganese ores need to be imported due to low domestic grade, high mining cost, reserves and other factors. The proportion of manganese ore in the production cost of manganese alloy is large. There is an extreme shortage of chromium ore resources in China, and almost all of them depend on imports. Chromium ore accounts for a large proportion in the cost structure of ferrochromium.
The production cost of manganese ferroalloy is mainly composed of the purchasing cost of manganese ore, electricity and coke, in which the cost of manganese ore accounts for about 55% ~ 60%, the cost of electricity accounts for about 20% ~ 30%, and the cost of coke accounts for about 10% ~ 15%. In addition, in the production of manganese ferroalloy, many enterprises, in addition to using domestic manganese ores with low phosphorus, low iron, low sulfur and low silicon, in order to improve the grade of raw materials, increase the recovery rate of manganese elements, reduce power consumption and production costs, Need to purchase part of the imported ore and domestic ore ratio after smelting. Therefore, the fluctuation of manganese ore price, electricity charge and coke price has a great influence on the production of manganese ferroalloy.
2019 (fourth) Ni-Co-Li-mn Industry chain Summit-Global Lithium Technology Symposium invites cathode materials and lithium battery enterprises to explore the new trends of industrial chain development, interpret industry policy trends, and analyze future price trends! Review 2018 with 90% of the bosses, purchasing and general workers in the industry, look forward to 2019, and imagine 2020!
Meeting details: 2019 (fourth) Ni-Co-Li-mn Industry chain Summit (click on the link to see details)
[2019 Ni-Co-Li-mn Industry chain Summit]
Boutique meeting, New year feast!
Summit consultation, Mr. Yu