SMM, June 16 / PRNewswire-Asianet /-
3 series short-term follow-up nickel price downstream transaction light
This week, the price of 200 series and 400 series stainless steel fell slightly by 50 yuan / ton, and the price of 300 series kept stable operation. 200 series price weak and stable operation, downstream agent price reduction to promote the transaction, the overall market atmosphere is empty. The price of the 400 series was mainly dragged down by the fall in the price of high-carbon ferrochromium at the raw material end, which was reduced by 50 yuan per ton this week. The price of the 300th series was affected by the nickel price this week, and the market quotation was mixed. According to SMM research, driven by the nickel price, the guidance price of the stainless steel factory was raised, and the downstream agent raised the quotation slightly, but the transaction was light. On the supply side, due to the power limit and the impact on some production lines, the South China Steel Plant will carry out 10 to 15 days of maintenance next week, which is expected to affect the output of 30, 000 tons, and the stainless steel plant with a capacity of 3 million tons in another year will be overhauled for one week. The output is expected to affect 12, 000 tons. The price of 300 series fluctuates with the price of nickel in the short term. If nickel prices are firm to the end of June, stainless steel prices stabilize, steel mills are expected to maintain normal production in July.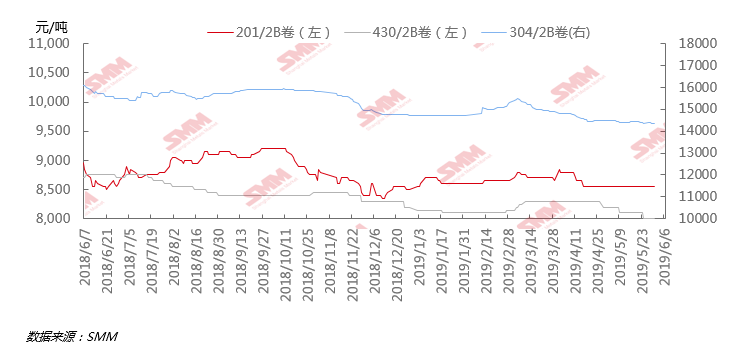 Profit: from the average cost distribution map of stainless steel enterprises, the centralized price range of stainless steel hot rolling cost is about 10000 yuan / ton-14000 yuan / ton, and the profit value is in the range of-10000 yuan / ton-1000 yuan / ton. According to the SMM data, the profit value of 3 series stainless steel is about-200 yuan / ton in the past two weeks.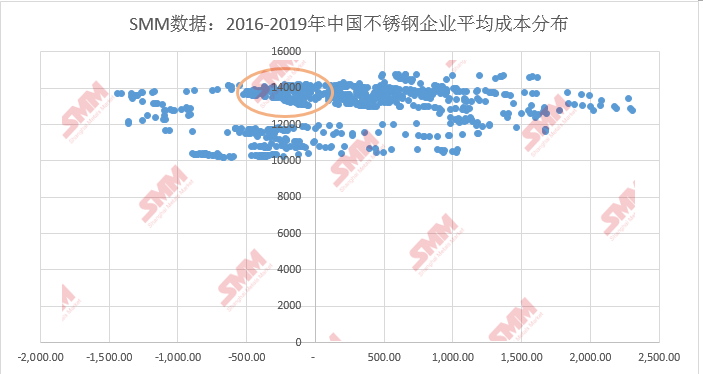 Inventory:
Inventory: stainless steel social month-on-month increase of 2 per cent to 494000 tons in mid-June. In mid-June, the social inventory of stainless steel in Wuxi increased by 3 per cent to 280000 tons compared with the end of May, of which the 280000 series ring decreased by 7 per cent to 19000 tons, the 300 series ring increased by 3 per cent to 210000 tons and the 400 series ring increased by 6 per cent to 50 000 tons. June entered the off-season of consumption, downstream demand is weak, supply pressure is not reduced, social inventory has increased unabated, social inventory is expected to fluctuate in a high and narrow range in June.
For more information, please subscribe to SMM nickel research group products "China nickel-chromium stainless steel industry chain general report", "China nickel-chromium stainless steel industry chain high-end report", get the latest nickel ore, nickel pig iron (China + Indonesia), electrolytic nickel, nickel sulfate, chromium ore, ferrochromium, stainless steel (China + Indonesia) related data analysis and market analysis! For order and trial, please call 021 5166 6855 QQ 2880 505677, contact: Wang Tong
(Shanghai Color Network Wang Tong TEL: 021 51666855 QQ: 2880505677)