On May 24, 2019, the Mexican Ministry of Economic Affairs announced the initial adjudication of an anti-dumping investigation into China's aluminum foil rolls and decided to impose provisional anti-dumping duties. The Mexican customs tariff number for the products involved in the case was 76071101, which was specifically described as having a thickness of ≤ 0.08mm and no backing. Rolled aluminum foil with external diameter ≥ 100mm and weight > 5kg.
The mode of taxation is a combination of minimum price and separate tax rate, as follows:
1. The minimum price is $3.4817 / kg. When the import customs clearance price of the product involved is higher than the minimum price, no interim anti-dumping measures shall be taken.
2. When the import customs clearance price is lower than the minimum price, the interim anti-dumping measure is the difference between the import price and the minimum price, but the following companies are taxed not to exceed their respective temporary dumping margins:
1) Hangzhou five stars: us $0.17968 / kg
2) Jiangsu Zhongji: us $0.6588 / kg
3) Boxing Ruifeng and others: us $1.1634 / kg
Interested parties may submit comments and supporting materials to the Mozambican investigation organ on the results of the initial adjudication, and the deadline shall be before 14:00 on the 20th working day after the publication of the announcement; The address of the Mexican investigation agency is: Av. Insurgentes Sur 1940, Col. Florida, C.P.01030.
Earlier, the Mexican Ministry of Economic Affairs issued an announcement on the filing of a case on August 28, 2018, launching an anti-dumping investigation into imports of "rolled aluminum foil" from China. The dumping investigation period is from January 2017 to December 2017, The injury investigation lasted from January 2015 to the end of the dumping investigation period. The application for the survey was made by Almexa Alumini,S.A.de C.V., a domestic enterprise in Mexico. It is proposed that the company's products are also aluminum foil.
In 2018, China exported 1.2858 million tons of aluminum foil to Mexico, accounting for only 3.98 per cent of the total. China's aluminum foil export destination countries ranked according to the volume of India, Thailand, South Korea, the United States, Indonesia and so on, Mexico only ranked eighth. And the aluminum foil involved in this case is only a part of unlined double zero foil, the amount involved is even smaller. According to customs data, China's monthly export volume of aluminum foil to Mexico has been relatively stable since 2018, and the change has converged with the total export volume. However, SMM has always stressed that it has become a trend for overseas countries to carry out double reaction to China's aluminum foil products, and aluminum foil enterprises need to remain vigilant and flexibly respond to the trade situation.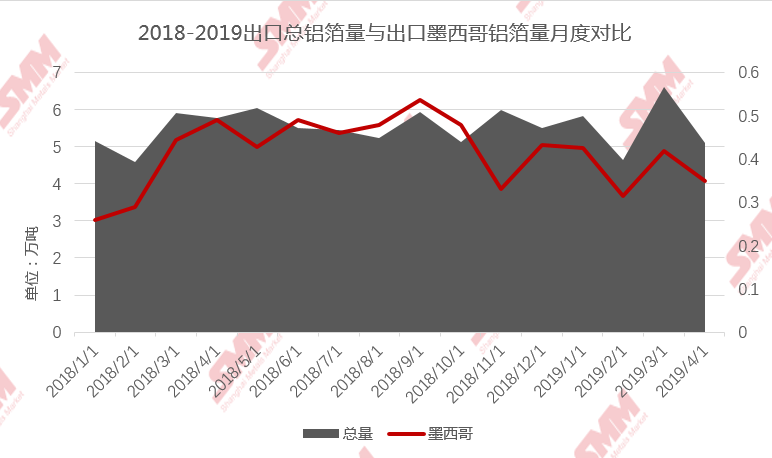 Data sources: China Customs, SMM