SMM, December 21 / PRNewswire-Asianet /-
In 2018, with the weakening of the high-carbon ferrochromium market, the price of South African chromium ore is in the downward channel, the spot trade of chromium ore is difficult to operate, and most traders are in the cost upside down.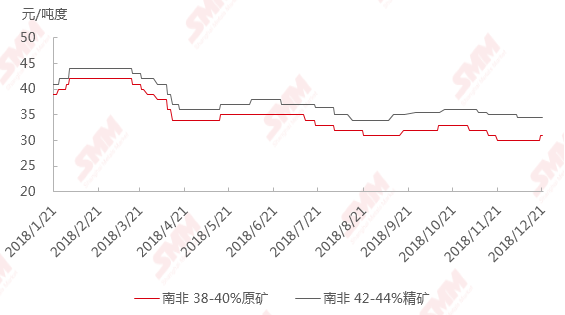 Stainless steel, the terminal demand for high-carbon ferrochromium, began to fall in October 2018 and finally ushered in a small rise this week, but according to stainless steel downstream agents, terminal consumption has not improved, the price increase is insufficient, or difficult to sustain. While the good news came from the stainless steel market, the price of high-carbon ferrochromium stabilized this week, and Tianjin Port chromium ore traders were even more willing to raise their prices. 38% to 40% of the original ore ring in South Africa rose 1 yuan / tonnage to 32 yuan / tonnage, and the price of refined powder in South Africa remained stable. At the end of the year, due to the winter snow in Inner Mongolia, the road conditions became worse, coupled with the lack of transport capacity in the later period, the factory will be prepared for winter storage, but there is still some time to go before the traditional winter storage. Why is the factory purchasing actively at this time and accepting the price increase of traders?
According to the SMM survey, the small price rise this week is due to the following reasons:
1. As there are fewer tradable mines in Tianjin Port, traders are generally bearish on the future market, and almost all of them have no plans to purchase futures. At present, most of them come to Hong Kong for futures set by factories.
Second, the market of high-carbon ferrochromium has weakened since November 2018, and factories can only suppress mining prices to reduce production costs and make up for losses.
3. Previously, the price of South African chromium mine futures fell to US $145 per ton, equivalent to about 31 yuan per tonne of spot, and the factory benefited, and this time accepted the price increase of traders, or "compensation."
Whether the price increase in South Africa can be sustained, focusing on follow-up factory replenishment and subsequent port stocks, the national chromium mine port stocks this week increased by 1.4 per cent from Friday to 2.88 million tons, of which Tianjin Port fell 30, 000 tons to 1.69 million tons. According to SMM research, the follow-up arrival of Tianjin Port is mostly for the futures set by the factory, even if the factory is ready for winter storage, only the port goods need to be shipped back to the factory in advance, and the spot is less. Although recently due to foreign Christmas holidays, but South African ports have been shipped ahead of schedule, futures delayed to Hong Kong or difficult to occur. Chromium mine price rise is difficult to sustain, future prices or stable operation.
For more information, please subscribe to the "China Ni-Cr stainless Steel Industry chain General report" and "China Ni-Cr stainless Steel Industry chain High end report" of SMM nickel research group products. Get the latest nickel ore, nickel pig iron (China + Indonesia), electrolytic nickel, nickel sulfate, chromium ore, ferrochromium, stainless steel (China + Indonesia) related data analysis and market analysis! For order and trial, please call 021 5166 6855 QQ 2880 505677, contact: Wang Tong
(Shanghai Color Network Wang Tong TEL: 021 51666855 QQ: 2880505677)