SMM12, 12 March-SMM China's refined copper production in September 2018 was 716800 tons, down 2.78 percent from the previous month, an increase of 4.72 percent over the same period last year, and the cumulative output from January to September was 6.506 million tons, an increase of 11.7 percent over the same period last year.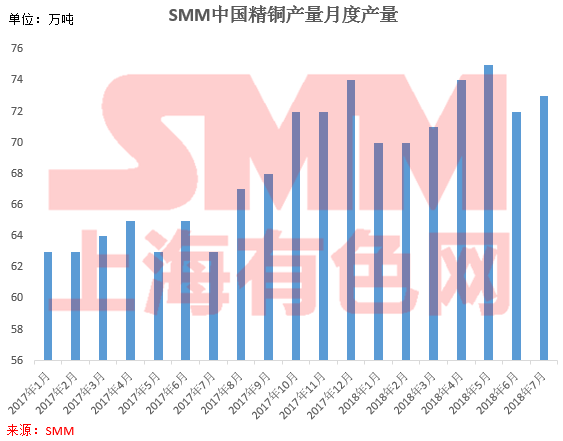 In September, the output of refined copper was lower than expected, mainly due to the maintenance of smelters such as Fuye Group headquarters, Dongying Fangyuan, Xinjiang Wuxin Copper Industry, and some refineries due to the shortage of crude copper raw materials and the decline in capacity utilization. With the exception of the Zhongyuan Gold smelter, Xinjinchang and Yuguang Gold and lead, the production capacity of the new expansion and resumption of production during the year, except for the Zhongyuan Gold smelter, Xinjinchang and Yuguang Gold and lead, the rest of the Guotou Jincheng Metallurgy, Chinalco Southeast, Qinghai and Wuzhou Jinsheng are still on the low side or no output. Recycled copper still shows no sign of recovery due to environmental protection and tight suppression of raw materials.
According to the production schedule of various refineries in October, SMM is expected to produce 731600 tons, an increase of 1.26 percent over the same period last year. The month-on-month increment is mainly due to the release of new expansion capacity and the recovery of pre-maintenance refineries. However, the overall increment will still be subject to the maintenance of Zhongtiao Mountain Nonferrous and Daye Nonferrous Metals. Some refineries said that the current spot copper concentrate TC remained high, coupled with the completion of annual production demand at the end of the year, will maintain a high operating rate, with a cumulative output of 7.2376 million tons from January to October, an increase of 10.6 per cent over the same period last year.
Will the strike make a comeback in 2019 and what is the growth rate of copper concentrate? Can the current situation of domestic copper scrap cycle system make up for the gap of copper scrap import? New energy is expected to support copper consumption? Please pay attention to the "2018 China Nonferrous Metals Annual meeting and 2019 (SMM) Metal Price Forecast Conference" held by Shanghai Nonferrous Metals Network in Shanghai on October 19, at which there will be industry bigwigs, executives of well-known enterprises, and senior analysts of SMM copper. For everyone to see the sun, a detailed explanation of the copper market. At that time, more than 1000 elites and institutions in the industry will gather together, and there will be more than 10 well-known media reports at home and abroad. An industry feast is coming, we are waiting for your arrival!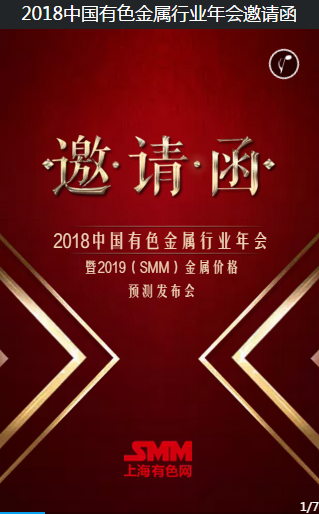 "Click to enter the registration channel