SMM6 27-month news: Prev opened slightly higher in the morning, liquor plate rose in the lead, led by early trading, block chain, securities, fuel cells and other topic stocks have strengthened one after another. The performance of the brokerage sector was strong, and Great Wall Securities rose by the limit for a time. In addition, superfungi, domestic chips, hydrogen energy and other plates are also in the forefront of the increase. In early trading, led by the Shanghai Stock Exchange 50, the index opened higher, the Prev index rose more than 1 per cent, and again stood at the 3000 level, with the securities and liquor sectors leading the way. By midday, the Prev index was up 0.89 per cent at 3002.72 points, the Shenzhen Composite Index was up 1.36 per cent at 9246.11 points, and the gem index was up 1.29 per cent at 1523.96 points.
Guizhou Maotai shares broke through the 1000 yuan mark, another all-time high, up nearly 70% so far this year, with a market value of 1.25 trillion. A shares last appeared thousand yuan shares, but also dating back to 27 years ago. Once the "old stereotyped" leading vacuum electronics, the issue price is as high as 365 yuan, a year and a half, the stock price has increased sixfold. Its share price reached 1030.10 yuan on April 14, 1992.
Review of abnormal movement
Prev opened slightly higher in early trading, Citic Construction Investment continued its decline today, opened down limit, Zhongke Shuguang resumed trading today, the opening word fell limit, garbage classification plate lower, Shengyun environmental limit, Senyuan shares close to the limit.
Block chain plate early trading strong, Chinese media holding, Kane shares one word board, Hengyin finance, Julong shares straight line pull up the seal board, gold certificate shares, new morning science and technology, Koran software have rushed up one after another.
5G chip concept stocks in the high, Huizhong shares in the word board, Taijing technology to pull up the seal board, Mingpu optical magnetic, Feirongda, Wu Tong holding and other stocks have followed.
Liquor plate abnormal movement pulled up, welcome tribute liquor straight line rose nearly 5%, Guizhou Maotai, Luzhou old cellar, Gujing Gong liquor, Shuijingfang and other stocks have risen one after another.
Garbage sorting plate strengthened again, Senyuan shares rose rapidly, the performance of Tianban, green power, Yaben chemistry, Willie, China jacaranda and other stocks have risen one after another.
Guizhou Maotai shares broke through the 1000 yuan mark, another all-time high, up nearly 70% so far this year, with a market value of 1.25 trillion.
The agricultural planting plate moved up in the market, the Denghai seed industry rose nearly 4% in a straight line, and the Dunhuang seed industry, agricultural seed industry, new agricultural development and other stocks rose one after another.
Fuel cell plate rise, Kailong shares straight up seal plate, Houpu shares, Hongyang energy, satellite petrochemical, cryogenic shares have rushed higher.
Message surface
[Xi Jinping leaves Beijing to attend the 14th summit of G20 leaders]
On June 27, Chinese President Xi Jinping left Beijing by special plane and went to Osaka, Japan to attend the 14th summit of G20 leaders at the invitation of Japanese Prime Minister Shinzo Abe. (CCTV News)
[interest rate cut is an important option? The State Council has issued a number of additional financing policies to support small and micro enterprises to further reduce the real interest rate of financing]
According to the Chinese Government website, Premier Li Keqiang presided over an executive meeting of the State Council on June 26 to determine measures to further reduce the real interest rate of financing for small and micro enterprises, and decided to carry out pilot projects to deepen the comprehensive reform of financial services for private and small and micro enterprises; deploy and support the expansion of intellectual property pledge financing and manufacturing credit to promote innovation and real economic development; It was decided to expand the coverage of scholarships and grants in higher vocational colleges, raise the standard of subsidies and establish national scholarships for secondary vocational education. (brokerage China)
I don't want to give up the huge Chinese market! Micron, Intel and other US companies resume supply to Huawei]
"US enterprises have stepped over government sanctions to resume supply to Huawei in China," the New York Times reported on the 25th, which was confirmed by all parties. Meguang Technology, the largest computer memory chip maker in the United States, confirmed on the 25th that it had resumed supply to Huawei two weeks ago. BBC (BB C) said on the 26th that in addition to Meaguang, Intel and other U. S. semiconductor industry leaders have resumed supply to Huawei. "these deals fully demonstrate how difficult it is to crack down on Huawei," lamented the New York Times. Changing the network of trade relationships that connect the world's electronics industry to global business could have unintended consequences. " (global Times)
[Fujian: opinions on promoting the Development of Block chains and coming out of Taiwan as soon as possible]
Fujian Province will investigate and find out the development and application of the block chain industry in the whole province, and incorporate the contents of the suggestions into the policy measures such as promoting the development and implementation of the block chain, so as to promote the development of the block chain industry in Fujian Province as soon as possible. To provide top-level design and policy support for the development of block chain industry in Fujian Province. At the same time, we should work together with relevant departments, enterprises, scientific research institutions and other units to study the demonstration scheme for the application of blockchain. In addition, domestic blockchain enterprises with core technology or growth will be introduced to Fujian Province, and a number of blockchain projects and good projects will be signed.
Institutional point of view
Wanlian Securities said that the search for certainty is the primary goal of capital. The growth of science and technology takes into account the dual objectives of economic support and economic transformation, and the main line of policy is clear and definite. In many uncertain markets, money is likely to focus on the growth of high-quality technology. Self-controlled. Can pay attention to 5G industry chain (especially application end), domestic chip, domestic software, CNC machine tools, large aircraft, new materials, big data, artificial intelligence, new energy automobile industry chain. In addition, the Shanghai Stock Exchange 50 as the representative of the high dividend rate plate and the gold plate is also worthy of attention.
Shanxi Securities recommends that investors control reasonable positions, light the market and weigh individual stocks, attack and defend both, select high-quality targets in two directions, and intervene on the low side: solid fundamentals of steady allocation of bottom positions, preferential policy, more deterministic / or risk-hedged sectors (public utilities, essential consumer goods, blue chips (food and beverage), agriculture, forestry, animal husbandry and fishing (pigs, chickens), gold, etc.); Offensive warehouse low intervention, light game policy hedge direction: including core technology, chips in independent and controllable areas, 5G industrial chain, new energy vehicles, information security, cloud computing, etc., as well as the construction, building materials and central enterprises that benefit from active financial efforts.
On the allocation strategy for the second half of the year, League of Nations Securities said that it was still optimistic about investment opportunities in the second half of the year against the background of low valuation, tax cuts and fees, global easing, foreign capital inflows, and continued capital reform. It is suggested that attention should be paid to the following three types of opportunities: first, to maintain high prosperity or marginal improvement of sub-industries, including cement, pharmaceutical biology, livestock and poultry breeding, liquor, beer, gold, etc. Second, enjoy the opportunity of leading companies under the promotion of concentration or brand premium, such as real estate, infrastructure, decoration and other industries leading companies; Finally, strategic industry opportunities under the increasing importance of technology, such as semiconductors, military industry, information security, 5G, high-end manufacturing, rare metals, oil clothing, seed industry, etc., as well as non-silver finance opportunities to facilitate the transformation.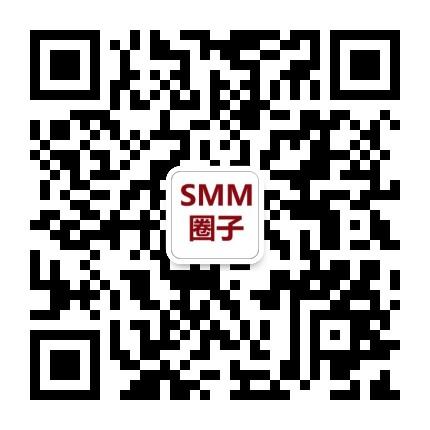 Scan QR code and apply to join SMM metal exchange group, please indicate company + name + main business