SMM6, 13 / 13 / PRNewswire-FirstCall-Asianet /-
Starting on Saturday (June 15), the U. S. government will officially start imposing a 25% tariff on Chinese-made aluminum wheels. As the destination country, which accounts for nearly half of China's aluminum wheel exports, how much impact will the United States impose on domestic aluminum wheel enterprises after imposing high tariffs on China, and will all this part of the export volume be cut off? SMM believes there is no need to be overly pessimistic, with a cliff-like decline in exports of aluminum wheels less likely after June.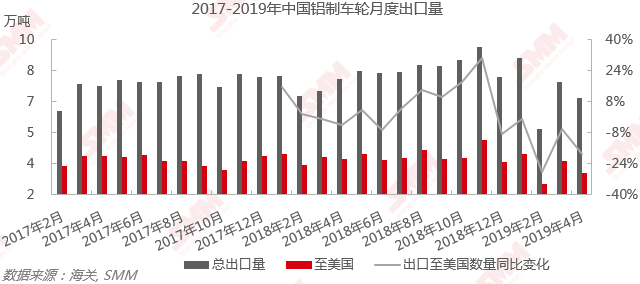 The volume of China's aluminum wheel exports has remained high since the news of the tariff increase in the middle of last year. From the picture above, we can see that the export volume of aluminum wheels from China to the United States maintained a year-on-year growth trend from July to November 2018, and the car depot was active. In addition, during the annual long order negotiations at the end of last year, both Chinese and US enterprises were expected to continue to impose tariffs in the future, so changes in trade relations between the two countries were also taken into account in the long single price, and the increase in costs will be shared by domestic hub enterprises, dealers, foreign car enterprises, and other parts, so the number of aluminum wheels exported to the United States will not be significantly reduced in the short term.
However, reviewing the production situation of domestic hub enterprises in May, the global car market downturn, external trade frictions, industry seasonal off-season and other comprehensive factors, hub enterprises start construction is not ideal. In May, the output of domestic large aluminum wheel enterprises fell by about 10% compared with the previous month, and the production reduction of small and medium-sized enterprises was even more serious, especially for some enterprises with relatively large foreign trade or concentrated customers, which reduced production by more than 50% compared with the previous month. Some enterprises, which used to rely on outsourcing orders from large companies, have had to stop production because of the increase in rich production capacity of large companies.
In addition to the above unfavorable factors, the current domestic five countries and six standards shift period, car enterprises to increase inventory efforts, and mainly rely on vehicle consumption-driven demand for aluminum wheels in June will undergo a greater test. At the end of the off-season of consumption in the second half of the year, demand will gradually pick up, but considering the long-term impact of tariffs, the export volume of aluminum wheels will weaken month by month. If there are domestic consumer stimulus policies, it may be able to fill some of the export gap.
According to the Automobile Industry Association, auto production and sales expanded in May from a year earlier, with production and sales reaching 1.848 million and 1.913 million vehicles respectively, down 9.9 per cent and 3.4 per cent respectively from the previous month, and down 21.2 per cent and 16.4 per cent respectively from the same period last year. The year-on-year decline was 6.7 and 1.8 percentage points higher than the previous month. From January to May, 10.237 million and 10.266 million vehicles were produced and sold respectively, with production and sales down 13% from the same period last year, an increase of 2% and 0.8% respectively over the period from January to April.
The timetable for imposing tariffs on Chinalco wheels is as follows: