SMM4, 19 April: Singapore Trafigura Group (Trafigura Group) will acquire Belgium's Nyrstar, the world's largest zinc producer, and reach an agreement to temporarily arrange financing for Nyrstar, according to the news on April 15. How did Nyrstar, as the leader of the lead and zinc market, become a "zombie company" with a lot of debt? Let's see the following analysis.
Nyrstar was founded in 2007 and when it went public in Brussels the same year, the company bought zinc mines from mines and had very strong mineral resources. A few years later, the company embarked on debt-called mining acquisitions.
But many of the company's newly acquired mines did not live up to their promises, and Nyrstar was forced to write down its value or sell at a loss. Nyrstar's main business is to buy ore and smelt it into metals. In recent years, the cost of zinc ore has soared and the company's profits have been hampered.
2018 was a crucial year for Nyrstar NV, where debt accumulated as a result of failed acquisitions sent the company's shares to an all-time low, down 29 per cent in 2018. "from an operational point of view, Nyrstar's mines have high profit margins and stable production, but the wrong decisions on mining investment have come at a high price.
The chart below shows that despite the high profit margins at Nyrstar's mines, its pre-interest cash flow, which was 180 million euros in 2018, was negative by 2019.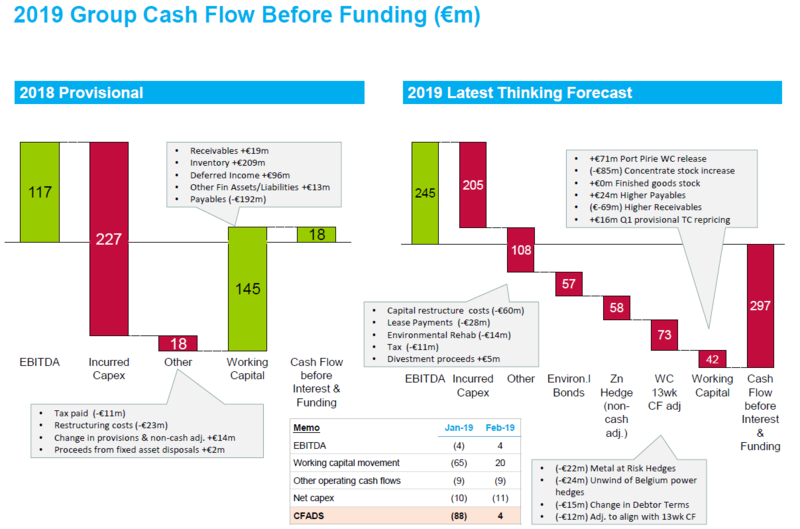 Source: Nyrstar
ABN AMRO (ABN Amro) analysts warned that Nyrstar could become a "zombie company" because almost all of its cash flow would be used to repay debt. Grant, head of European metals and mining research at Macquarie Capital, says Nyrstar has accumulated more than 1 billion euros in debt.
The reason why Nyrstar is heavily indebted can be seen by observing the trend of zinc prices in 2018, and it is not difficult to see from the chart below that zinc prices have fallen sharply since the second half of 2018. The fall in zinc prices has led to a narrowing of the profitability of many enterprises, Nyrstar is no exception, the company is on the verge of bankruptcy several times. Data showed that Nyrstar7- 's zinc production rose 9 per cent in September from a year earlier, but the company said the average price of zinc fell 22 per cent in the quarter from the average in the first half of the year.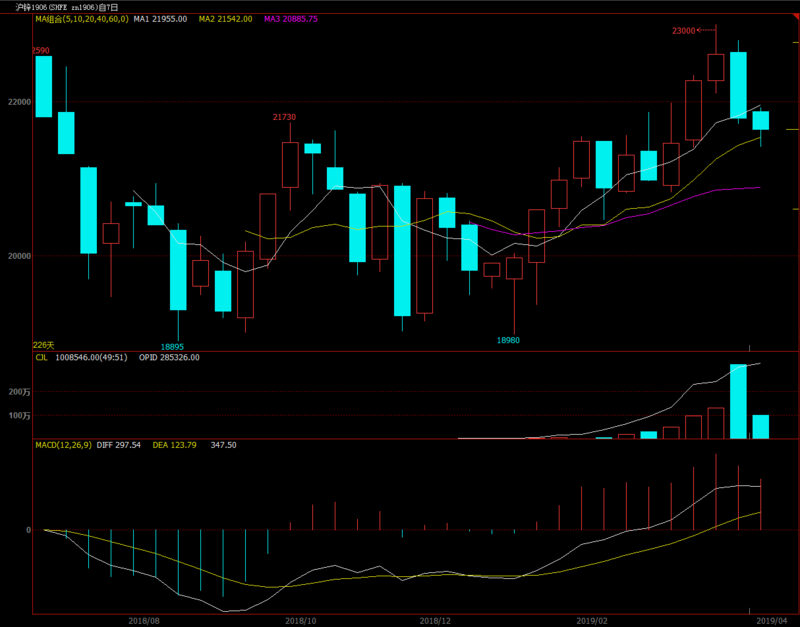 Source: Wenhua Finance and Economics
According to the chairman of the Trafigura Group, "since Nyrstar no longer has sufficient funds to maintain its operations, it will cause significant losses to all its shareholders and to the company's 4100 employees, taking into account the company's long-standing business partnership with Nyrstar. Trafigura is supposed to lend a helping hand. Trafigura is also Nyrstar's largest shareholder, with a 24.42 per cent stake. This is not an easy business for Trafigura, which will add to the burden on Trafigura. "
Under the terms of the agreement, Trafigura will provide Nyrstar with $250 million in bridge financing to help it maintain its operations. Earlier, Trafigura provided $650 million in liquidity to Nyrstar in November 2018 to expand its liquidity. Jeremy Weir, executive chairman and chief executive of Trafigura, said in a statement on Monday: "Nyrstar has faced enormous financial and operational difficulties over the past few years, but its mining business has a very strong base, which will contribute to the stable development of Nyrstar in the future." And he believes the proposed debt restructuring is the best solution. But it must also be admitted that this will cause some damage. In addition to bridge financing, Trafigura will issue 262.5 million euros of permanent bonds, 80.6 million euros of preferred notes and 225 million euros of seven-year notes to Nyrstar bondholders to cancel its 955 million euros of debt. Despite its financial woes, the Nyrstar smelter has not wavered in its position as Europe's largest zinc producer. Nyrstar produced about 139000 tonnes of zinc concentrate last year, up 14 per cent from 2017, but below its full-year target of 140000-150000 tonnes. So in fact, Nyrstar sensed danger last year. It warned in September 2018: "due to the sharp fall in zinc prices, the company's results in the second half of the year will be 'significantly lower' than in the first half." The move is also a test of Trafigura's ability as the world's second-largest zinc producer.
Trafigura Group: headquartered in Singapore, is a Singapore private transnational commodity trading company, operating base metals and energy, including oil, is the world's largest private metals trader and the world's second largest private oil trader.