SMM, 20 Dec:
At 3: 00 a.m. Beijing time today, the Federal Reserve raised interest rates by 25 basis points as scheduled. This is the fourth time the Fed has raised interest rates this year. But it suggests that the number of interest rate hikes next year will be cut to two. The Fed's post-meeting statement softened, but not entirely dovish, saying further rate increases would be appropriate, reversing the previous market tone of over-short selling of the dollar. The dollar reversed overnight, rebounding sharply after the Fed's interest rate decision, rising to 97. 10 at one point.
As the Fed announced a rate hike at 3 a.m. Today, Luntong fell short to open at $5998 a tonne, and its center of gravity fell back and fell completely to Brin's orbit. In contrast, LME inventories have continued to rise this week, rising 6350 tons to 128350 tons yesterday, overall bearish copper prices.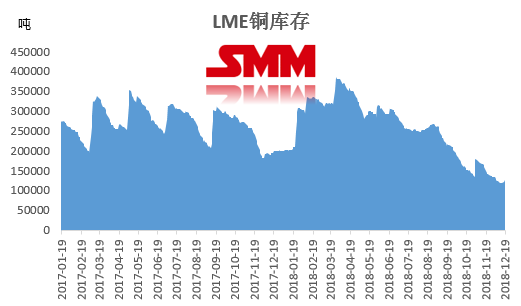 Shanghai Copper fell sharply from 48250 yuan / ton to 47770 yuan / ton after opening today, missing the 48000 yuan / ton barrier held since mid-September. Shanghai Copper's main short position has increased by more than 28000 since yesterday, with the biggest drop of 2.2 per cent in the past two days. Stocks in the previous period have also continued to fall since the end of October, but have not played a significant supporting role in copper prices. At present, Shanghai Copper is still dominated by macro logic. Crude oil, as the king of commodities, has basically been declining since the beginning of October this year. Among them, US crude oil has dropped by 40%, and the day before yesterday, it was down 46.11 US dollars per barrel at 50 US dollars per barrel. It fell to its lowest level since August 31, 2017, dragging down copper prices.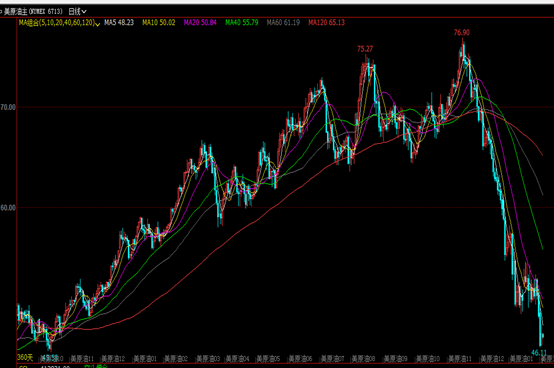 From the perspective of Sino-US relations, it is still not optimistic that China has made compromises and concessions. Last week, China confirmed that it would suspend tariffs on US car imports for three months, and it is also reported that China will also import large quantities of agricultural products from the United States. Before the Fed announced a rate hike yesterday, the people's Bank of China decided to create targeted medium-term lending facilities in the face of downward pressure on the global economy. In addition, new loans and rediscount quotas increase financial support for key areas such as the real economy, which is a prelude to targeted interest rate cuts. Today is the first day of the Central Economic work Conference, which is a bellwether for observing China's economic prospects, macro-control and major reforms in 2019.
From the current market capital flow point of view, yesterday Shanghai copper index inflows of 555 million yuan, ranking first in the non-ferrous plate inflow funds; in addition, yesterday, the Shanghai copper index increased positions by more than 40, 000 hands, the main Shanghai copper fell in the last two days also ranked first in the non-ferrous plate. At present, the main force of Shanghai copper is not only affected by the Fed to raise interest rates, because copper is more vulnerable to the disturbance of macro factors, so the volatility is larger in the past two days.
From the disk point of view, yesterday's jump in copper prices formed by the big Yin column to fill part of the jump gap formed in September, copper prices in the future low return may form pressure. After the opening of trading this afternoon, the main force of Shanghai copper stopped falling and rose to recover some of the decline, from the disk point of view 47500 yuan / ton may become the main technical support level of Shanghai copper, and may continue to fill the gap formed in the early stage. As of a year ago, SMM predicted that Shanghai Copper will still operate as a weak shock, and the follow-up dynamic SMM will continue to track. (SMM Dai Cheng Yao)