SMM10, 17 October: on October 12, the US Department of Commerce announced the launch of an anti-dumping and countervailing investigation against aluminum wire and cables in China. It is said that the margin of dumping is expected to reach 53.54-63.47%, while investigations into countervailing programs include taxes, export subsidies, loans, etc. As many as 26. On September 21, 2018, the US Anke Wire Company (Encore Wire Corporation) and the Southern Cable Company (Southwire Company,LLC) submitted applications to the US Department of Commerce and the US International Trade Commission. It is required to initiate anti-dumping and countervailing investigations against (Aluminum wire and cable) products of aluminum cables from China.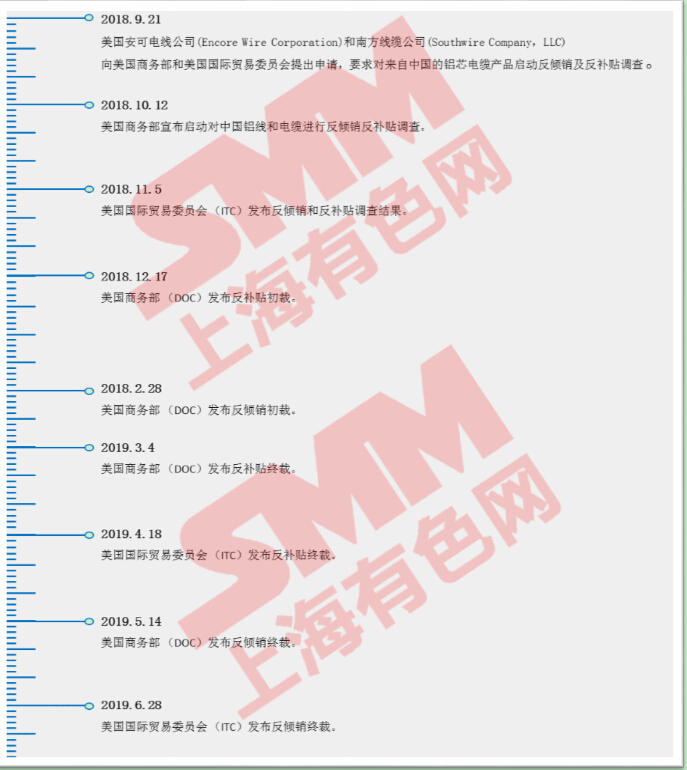 Source: us Business Department website

Unit: ton; Source; U.S. Department of Commerce website, Customs data, SMM
With the decline in domestic demand for aluminum cables, cable exports have become a way for more enterprises to survive. The number of aluminum cables exported to the United States has increased year by year, with the exception of the US market. Chinese cable companies have increased their cable exports to "Belt and Road Initiative" countries and African countries this year. The launch of a "double reverse" investigation in the United States will lead to a further blow to cable companies that are already struggling, although some of the losses can be made up for by exports to other countries.
Aluminum cable tariff
Wires and cables were on the list in August, when the United States imposed a 25 per cent tariff on $16 billion of Chinese products.
Not long ago, China increased the export tax rebate for aluminum cables from 13 per cent to 16 per cent.
(SMM Luo Qiaoling 021 51666863)