On March 13, 2018, Luoyang Molybdenum shares rose sharply, rising as high as 6.78 percent in intraday trading, hitting an all-time high of 9.45 yuan. As of the close, the stock 9.30 yuan / share, trading volume of 3.817094 million hands, volume ratio 1.32, amplitude 8.02%. Huayu cobalt industry, Pengxin resources, cold sharp cobalt industry, Ganfeng lithium industry and so on have shown an upward trend. Among the small metal stocks, Luoyang molybdenum industry rose the most today, rising 86.70% in 2017 and has risen more than 28% so far this year.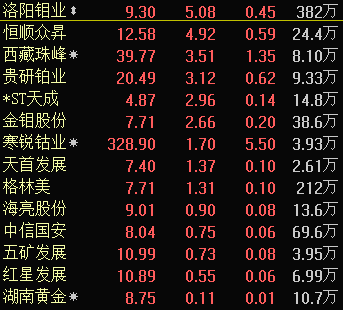 Since the beginning of this year, the price of cobalt, molybdenum and tungsten, which are the main products of Luoyang molybdenum industry, has continued to rise, reaching a multi-year high. Up to now, cobalt prices have reached a 10-year high, molybdenum prices have set a new five-year high, and tungsten prices have also shown an upward trend.
Cobalt has quadrupled in the past two years, rising more than 130% last year alone. by last week, foreign media prices had risen to $40 a pound, the highest level since 2008. Domestic quotation cobalt spot price is also in the upward trend, electrolytic cobalt quotation reached 600000 yuan / ton-620,000 yuan / ton.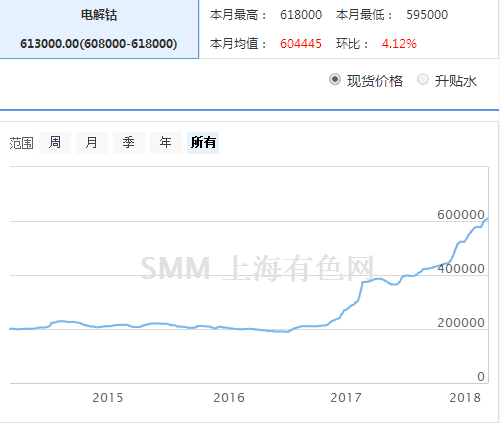 The international index MSCI will officially enter the A-share market for the first time in May, as well as Apple's long-term contract negotiations with three global cobalt mining suppliers (Glencore, Luoyang Molybdenum and Jinchuan International). Have become possible to affect the share price of Luoyang molybdenum industry, from the disk view of Luoyang molybdenum industry have good news.
Luoyang Molybdenum successfully acquired Brazil's niobium and phosphorus business and Congo (gold) copper and cobalt business in 2016. the final completion of two major overseas mergers and acquisitions means that Luoyang Molybdenum's products involve copper, cobalt, molybdenum, tungsten, niobium, nickel, aluminum, zinc, and lead. Gold and phosphate rock. In addition, the Democratic Republic of the Congo (DRC) Senate voted Wednesday local time to pass a new mining law, cobalt rights gold tax rate may be raised to 5%. Tougher new mining laws create barriers to new entrants, tighten the supply of cobalt in the long run, and strong consumer demand favours listed companies with mining resources.
According to the pre-increase announcement of Luoyang Molybdenum Industry announced on January 31, 2017, Luoyang Molybdenum Industry expects to achieve a net profit attributable to listed shareholders, which will increase by 1.7 billion yuan to 1.9 billion yuan compared with the same period last year. A year-on-year increase of 170.33 per cent to 190.37 per cent. The net profit attributable to shareholders of listed companies, net of non-recurrent gains and losses, is expected to increase by 2.15 billion yuan to 2.45 billion yuan, or 236.87 per cent to 269.92 per cent, compared with the same period last year. The main reason for the pre-increase in this performance is that the market prices of copper, cobalt, molybdenum, and tungsten, the main metal products, have risen significantly in the year compared with the same period last year. The 2017 results also include full-year results for two major overseas mergers and acquisitions delivered by Luoyang Molybdenum in the fourth quarter of 2016.