SHANGHAI, Dec 26 (SMM)- Several silicon producers in Bayan Nur city in Inner Mongolia have switched their production capacity to produce ferrosilicon due to a surge in ferrosilicon price earlier this month.
SMM understood that one producer in Qinghai province has also recently switched to producing ferrosilicon, bringing the number of plants doing so to five.
The plants in Bayan Nur that have switched their capacity account for 13% of Inner Mongolia's silicon output. Following such shift in output, silicon producing capacity in Bayan Nur stood at about 80,000 mtpy.
Inner Mongolia and Qinghai are the major producing provinces for non-oxygen #553 silicon in North China.
Ferrosilicon prices surged earlier this month due to production cuts in Ningxia province following environmental inspection activities. However, some plants have resumed production and ferrosilicon prices have come back down.
A source at one of the plants that have switched to ferrosilicon production told SMM that his company would look to shift back to silicon production if ferrosilicon prices continued to fall.
SMM believes no more silicon producers would switch capacity to ferrosilicon and that the impact to non-oxygen #553 silicon prices can be ignored.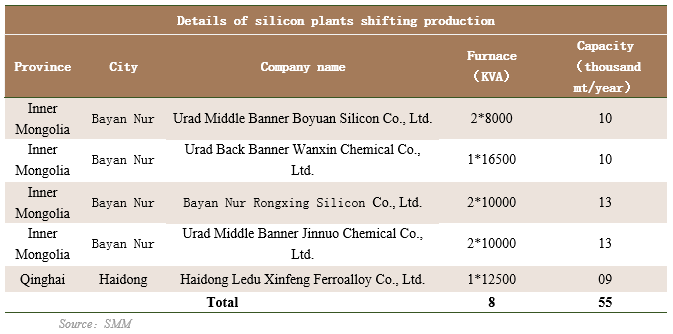 ---
For news cooperation, please contact us by email: gaotian@smm.cn or service.en@smm.cn.