SHANGHAI, Dec 19 (SMM) – Spot copper traded at a discount in the Chinese domestic market this week after flipping from a premium last week due to higher futures prices and more active selling interest, according to SMM research.
Current spot discounts were reported at 190-100 yuan/mt.
Following the rally in the futures markets, few transactions were heard in the physical market and sellers had to cut their premiums into discounts, SMM learned.
In addition, traders were keen to clear their cargoes toward the end of the year to settle the balance sheets, leading to stronger selling interest and bigger discounts. Those who continued to hold cargoes were also more likely to make sure they have enough cash flows instead of making more deals.
With current copper price at around 53,500 yuan/mt, downstream customers are more likely to keep their procurement on a hand to mouth basis. However, if the discount continued to go deeper, some traders may look to take positions.
On the demand side, we do not see evident turnaround in the domestic market.
Firstly, the real estate investment growth has slowed down. For the first 11 months of this year, China's total real estate investment stood at just over 10 trillion yuan, up 7.5% from the same period last year. However, the growth was slower by 0.3 percentage points from January to October.
In fact, property investment has continued to cool down and the 7.5% growth is the lowest level so far this year. Things are not expected to pick up in December, either. We expect the real estate growth will slow down further against the backdrop of government control.
Secondly, there is no major growth in the power industry. China's power generation in November was up 2.4% year on year but the growth was down by 0.1 percentage point from the previous month. In the face of slower investment growth in the property and infrastructure sectors, power consumption growth in 2017 has also been slower.
Overall, we believe spot copper trading liquidity will be dependent on fund liquidity, while lower inventories and slowing demand would also restrain trading activity.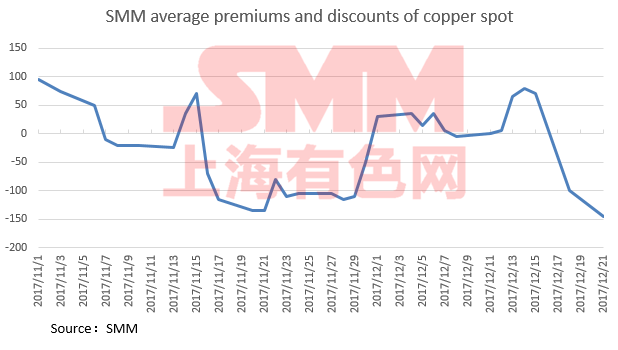 Unit: yuan/mt
---
For news cooperation, please contact us by email: gaotian@smm.cn or service.en@smm.cn.