SHANGHAI, Jun. 8 (SMM) – Copper mines in global major copper producing regions Chile and Indonesia have suffered continuous strikes since the beginning of 2017, raising market concerns on copper supply. However, according to China Customs, imported copper concentrate supply is ample in China's market for now as the strikes make limited impact on copper supply actually.
China Copper Concentrate Import Rally from March after Decline in February
Workers at Freeport-McMoRan Inc's Grasberg copper mine in Indonesia announced to launch strike in May, following a 43-day strike at Chilean Escondida copper mine. This raised market concerns on global copper supply.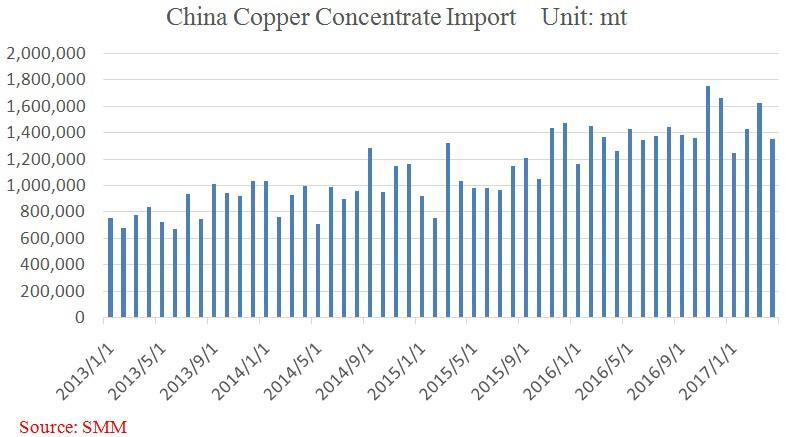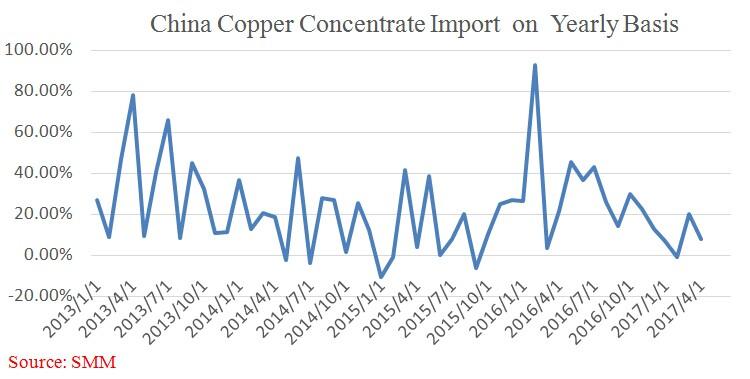 According to China Customs, China copper concentrate imports registered first negative growth in February 2017 from September 2015, while those rallied 19.84% YoY to 163,200 tonnes in March and expanded further by 7.66% YoY in April.
Peru Mining Industry to Benefit from Lower Air Quality Standards
China copper concentrate imports from Chile glided 20.89% to 28,700 tonnes in April 2017 after strike in Chile resulted in a 3-year low in copper output in February 2017. But, an 88% yearly copper output surge in Peru in March offset the deficit in China's copper concentrate imports.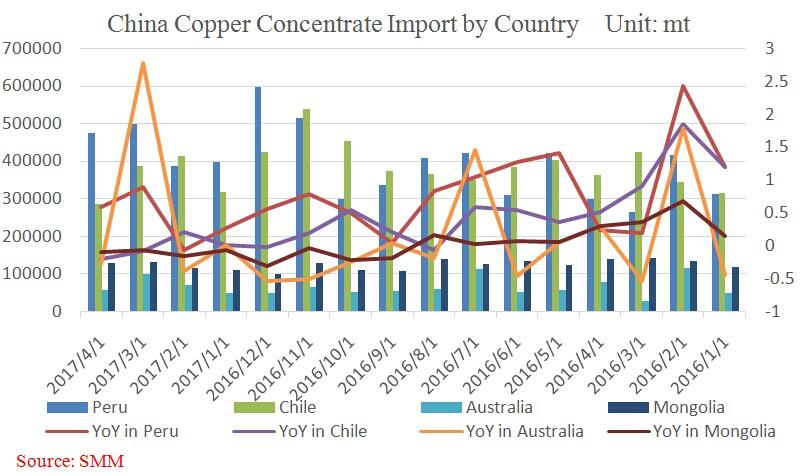 TCs for Imported Copper Concentrates Reverse to Upward Track from April 2017
TCs for imported copper concentrates rebounded from April after a decrease in February, a sign of easing supply, learned from SMM statistics.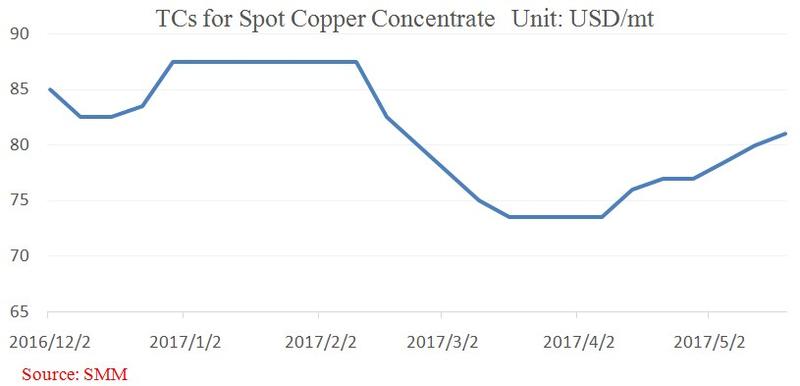 SMM analyst Lu Chen says that traded TCs for imported copper concentrates lurch up to $83 per tonne at present, following a further growth last week, and offers of clean one trace up to as high as $85 per tonne. Market participants not expect TCs for spot transaction of imported copper concentrate to reach $92.5 per tonne within the year as strikes reduce global copper concentrate output.
Codelco reported copper output down 11% YoY to 416,000 tonnes in the first quarter of 2017 in May. Output at 14 copper mines, which accounts for 52% of global overall output, slid 12% YoY in Q1 2017 due to consecutive strikes. Global copper concentrate output growth forecast for 2017 has narrowed to about 1.5%, and supply growth will be at 0-1% in whole year.
Rising imported copper concentrates and ample inventories at domestic copper smelters are attributed as the main driver to TC surge of imported copper concentrate. Soaring TCs indicates copper concentrate supply expansion, meeting market anticipation.
When Will Copper Price Bottom out? SMM Reports
Strike at Grasberg Copper Mine in May Makes Small Effect on Copper Concentrate Supply
Workers at Grasberg copper mine in Indonesia expanded strike in May, raising market prediction on falling global copper output. As of June 8, 2017, the strike has lasted for 39 days. According to the company's statistics, output at Grasberg copper mine halved during striking from May 1-20. The company plans to expanded output in the second quarter of 2017. Grasberg copper mine scheduled to produce 1,300 pounds (590,000 tonnes) of copper concentrates in 2017, up 100,000 tonnes from 2016's level, but the company will be hard to reach the target due to strike.
China imports small amounts of copper concentrates from Grasberg with the data below 40,000 tonnes (raw ore) in the first three months of 2017. So, the strike at Grasberg copper mine makes small impact on China's imported copper concentrate market, Lu Chen indicates.
TCs for imported copper concentrate in China will lift to $85 per tonne in June due to purchase increase from copper smelters after maintenance, but will not reach $92.5 per tonne within the year, SMM expects. Because that the strike reduces copper concentrate supply and domestic copper smelters will enter new capacities into operation in the rest of year.
China's copper concentrate imports grow constantly in recent years due to capacity expansion of refined copper. China's refined copper capacity was 10.8 million tonnes in 2016, up 91% from 2008's level and self-sufficiency ratio expanded to 70.97% in 2016 from 2010's 62.5%. Refined copper output will come up to 8 million tonnes in 2017 in China after domestic copper smelters put new capacities into operation.
For news cooperation, please contact us by email: sallyzhang@smm.cn orservice.en@smm.cn.