SHANGHAI, Dec 2 (SMM) – China exported 51,300 mt of silicon metal in October, 18.8% lower on the month and the lowest among exports in the same period during the past three years, according to data from China customs.
Compared to October 2018, exports in October were 28.8% lower due to weakened demand from overseas, as evidenced by lower operating rates across foreign downstream producers.
Supply glut overseas reduced the price advantages of Chinese silicon, which alongside currency depreciation in Brazil, dragged export prices below spot prices in the domestic market.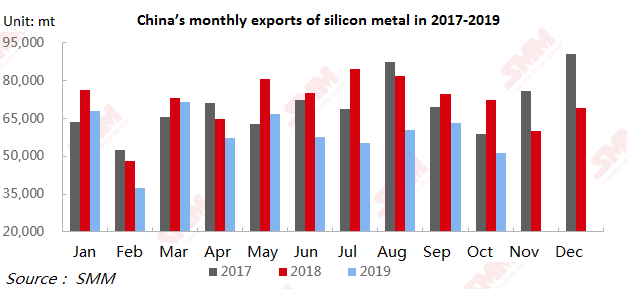 Exports of silicon metal will likely slip further in November to 45,000 mt, according to SMM data which tracks port inventories.
For December, silicon exports in China are expected to rebound on the month on the back of holidays in the western countries. But this may unlikely to cause a significant impact on the domestic market as most traders have prepared stockpiles for export shipments.
Export tenders for 2019 by major silicon suppliers in China drew close to an end last week. SMM learned that new deals sealed for December were limited.