SHANGHAI, Oct 31 (SMM) – SMM and Hong Kong Exchanges and Clearing Limited (HKEX) signed a Memorandum of Understanding (MOU) on Wednesday London time, to establish a long-term collaboration in the global data market.
The MOU signing came after the SMM London Metals Seminar during LME Week in London, which was held on October 29. SMM and HKEX conducted detailed docking and exchanges on data market cooperation and established a strategic partnership to promote business development in the financial and commodity sectors.
The MOU was signed by Dennis Zhang, HKEX Head of Commodities Development, and Kelly Ma, SMM Managing Director. HKEX Chief Executive Charles Li, HKEX Head of Market Development Li Gang, SMM CEO Adam Fan, and SMM Singapore General Manager Ian Roper, witnessed the signing.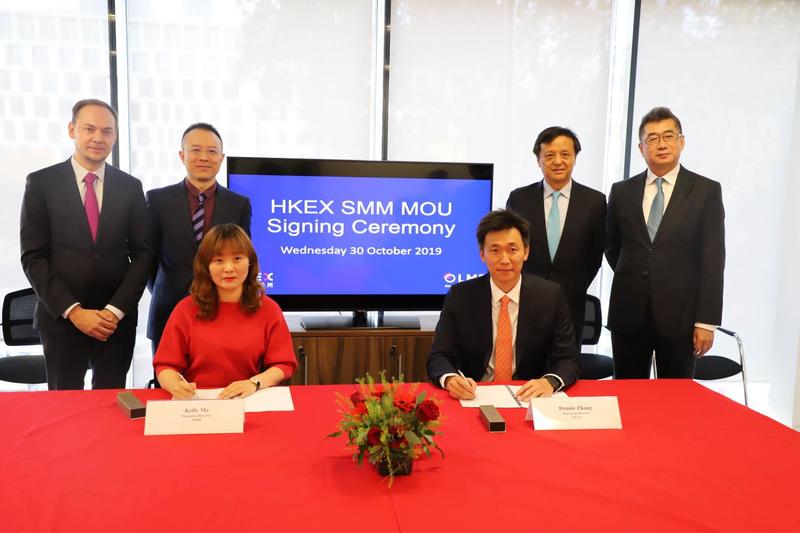 China accounts for more than half of global metal consumption and has a growing influence on international prices, with SMM playing a crucial role.
Therefore, HKEX is establishing a strategic partnership with SMM, leveraging on SMM's data strength and uplifting the positioning of SMM prices in the international market. At the same time, the collaboration also helps HKEX to better carry out business in mainland China and provide assistance for entity enterprises.