SMM, Sept. 3 / PRNewswire-Asianet /-
The prices of rare earth products remained stable today, with prices of 31.9-323000 yuan / ton for praseodymium oxide, 32.1-325000 yuan / ton for neodymium oxide, 190-1.92 million yuan / ton for dysprosium oxide and 392-3.93 million yuan / ton for terbium oxide. Today, the actual market transactions remained generally weak. Upstream businesses are still willing to praseodymium and neodymium oxide, downstream enterprises do not accept the current price, but affected by the supply of smelters in the second half of the year, it is expected that the price of praseodymium and neodymium oxide may remain stable and upward in the future.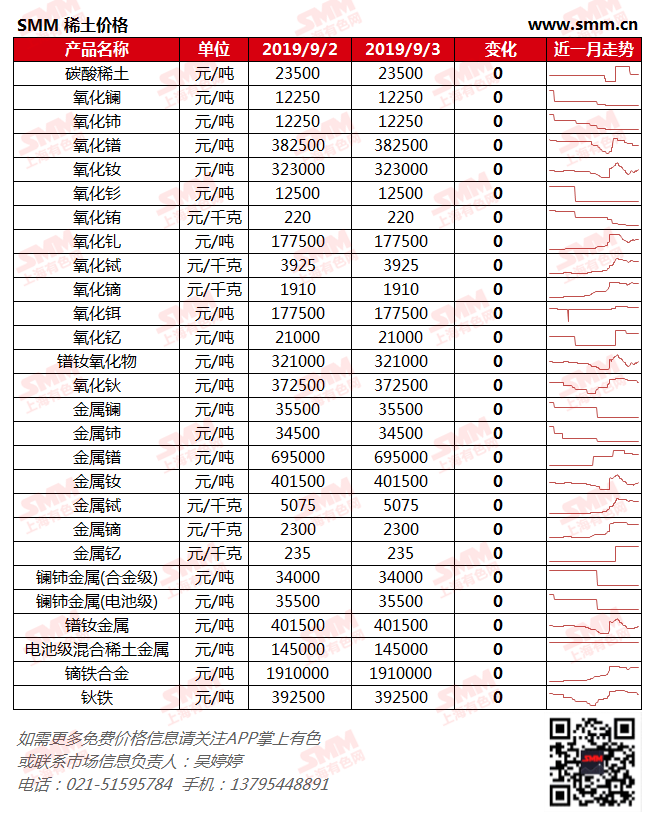 [focus] 2019 China rare Earth permanent Magnet Industry Market Application Development Forum
The trade war between China and the United States has made rare earths become the focus of global attention. China has the largest rare earth industry resources and export dominance in the world, and the world is highly dependent on China's rare earths, especially the United States. How will China make good use of the development advantages of the rare earth industry in the future? how to improve the development of the industry, monitor and crack down on black rare earths in order to standardize the ecological environment of the industry, and whether the rare earth industry has become a rising star after it has been put forward for strategic development? Whether the rare earth enterprise ushered in the tuyere? How will the price of rare earths go? At the 2019 China rare Earth permanent Magnet Industry Market Application Development Forum, SMM will invite industry experts and enterprise bigwigs to interpret the market focus topics for everyone, and provide technical professional guidance for the high-quality development of enterprises, so as to help enterprises have more advantages in the fierce competition. Welcome to the summit, together with the industry!
"Click to sign up for this summit