SMM6 12-month news: yesterday, the Federation of passenger cars released in May the national passenger car market analysis report.
According to the report, retail sales of narrow passenger cars in May were 1.582 million units, down 12.5 per cent from a year earlier, roughly the same as the year-on-year decline of-11.9 per cent from January to April and narrower than the previous month.
Retail sales of narrow passenger cars rose 4.8 per cent in May from April, the strongest month-on-month performance in May and an improvement on a four-day holiday in early May, the report said. This is mainly the implementation of the inventory of the super contribution to achieve certain results.
The report pointed out that in the past two months, the news of the implementation of the National six Standards is still gradually on the ground, and the official documents of some regional governments are only less than 50 days before they are implemented in July. The promotion intensity of the manufacturer is unprecedented, at present, the car purchase is the most economical, especially the supplier partner, the enterprise employee purchase, the dealer staff purchase, the relatives and friends purchase, the old customer marketing and so on all appear the depth discount. At present, the most difficult is the dealers, because of fears that they will not be able to digest the country's five stocks, and the channel prices are gradually chaotic. In May, car shows around the country broke out, with the national five clear treasury, the terminal price has no bottom line, resulting in a month-on-month rise in retail sales.
According to the data released by the passenger Federation in the latest year, from the first negative growth in car sales in June last year to May this year, the passenger car market has been negative for one year in a row! This not only represents the end of 28 years of expansion in the car market, but also means that the consumer market is still lacklustre.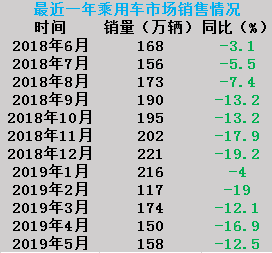 It is understood that with the decline in car consumption, many car stores have adopted large price cuts and loans of zero interest and other attractive concessions, but it is still difficult to stop the decline in overall sales. Whether car sales can take off in the future is closely related to whether China's economy can stabilize, which is still quite difficult at present.