SMM5 14: Chinalco in a short time to issue a new notice-"on non-metallurgical alumina, ordinary aluminum hydroxide sales minimum price notice", this is the fourth price increase since April! The content mentioned for the alumina market changes in another increase in prices, this time rose to the current 3050 yuan / ton! Prior to this, Chinalco has completed three price increases, which are 2750 yuan / ton on April 16, 2850 yuan / ton on April 26 and 2950 yuan / ton on May 10.
According to the recent supervision and inspection of environmental protection in Shanxi, some alumina plants have been ordered to cut production. Based on the new cut in production, SMM revised the balance in May. China's alumina production is expected to be 5.973 million tons in May (31 days). The monthly surplus narrowed sharply to around 150000 tons, the lowest surplus since December 2018. Stimulated by the cut-off news, alumina prices continued to rise, May 13 SMM alumina spot price of 2803 yuan / ton. ([SMM Analysis] the price of reducing the production of alumina in some alumina plants in Shanxi is expected to rise further.)
With the fourth consecutive rise in the minimum price of Chinalco's non-metallurgical alumina, the offer for alumina on Chinalco's official website has also risen from 2800 yuan per ton in April to 3000 yuan per ton at present. The price limit of Chinalco is: 2750 price limit is implemented at 6: 00 p.m. on April 16 (Tuesday), 2850 price limit is implemented at 6: 00 p.m. on April 26 (Friday); The 2950 limit is 8: 00 a.m. on Friday, May 10, and the 3050 limit is 8: 00 a.m. on Monday, May 14. The number of trading days is 8, 8 and 2, respectively. At present, stimulated by the news of production stoppage, the quotation of alumina plants and traders has risen sharply to around 3000 yuan / ton, and SMM expects the actual transaction price of alumina to rise further in the short term.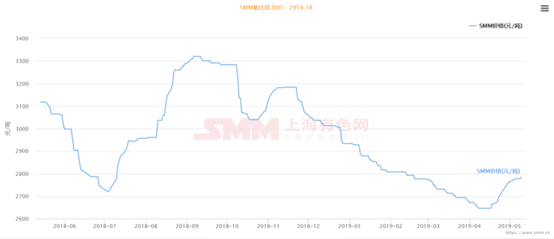 "Click to view SMM exclusive spot price data