SMM, April 19 / PRNewswire-Asianet /-
According to the 4.15 announcement on Vale Indonesia's (PT Vale) website, ice nickel production was reduced to 13080 tons in the first quarter of 2019, down about 36 percent from the fourth quarter of 2018 and 23.7 percent from the first quarter of 2018. The decline in production was mainly due to electric furnace failures and plant closure, revising the full-year production target for 2019 to 700000 to 72000 tons. (see end of the original document)
According to PT Vale's 2018 annual report, the target for 2019 was 74, 000 to 76, 000 tons, down from a full-year target of about 4000 tons.
PT Vale, based in Sulawesi, Indonesia, Sorowako, was acquired by Vale in 2006, Vale holding 59.27%, mainly produces ice nickel, ice nickel annual production capacity of 80, 000 tons. PT Vale has its own nickel laterite mine, and the ice nickel will be shipped to Japan, Dalian and Wales to continue refining.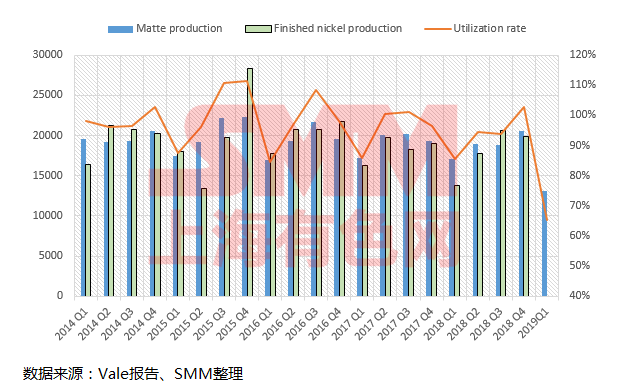 , PT Vale's ice nickel has maintained a high start-up rate over the years, falling to 65% in the first quarter after adjusting production in the first quarter of 2019, the lowest quarterly start-up rate since 2014.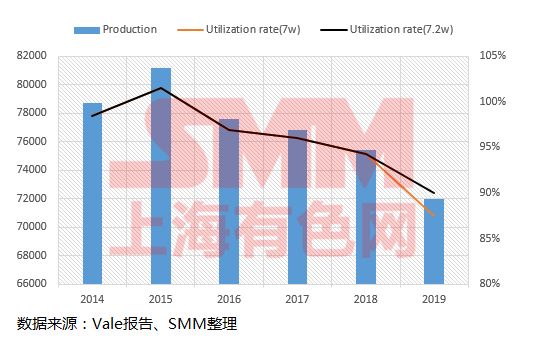 However, in terms of the annual start-up rate, because of the maintenance of some equipment, the annual start-up rate of, PT Vale has been declining year by year since production reached an all-time high in 2015, from 101% in 2015. It fell to 90% of the forecast in 2019 (calculated as a high of 7.2 weeks).
In addition, the decline in ice nickel production by, PT Vale does not necessarily mean that the final primary nickel production will decline. For example, Q4 in 2015 in figure 1, the primary nickel production in the current quarter is significantly higher than the ice nickel production in the current quarter, or there is a certain stock of previous quarters. The specific production of primary nickel is subject to the quarterly data released by Vale.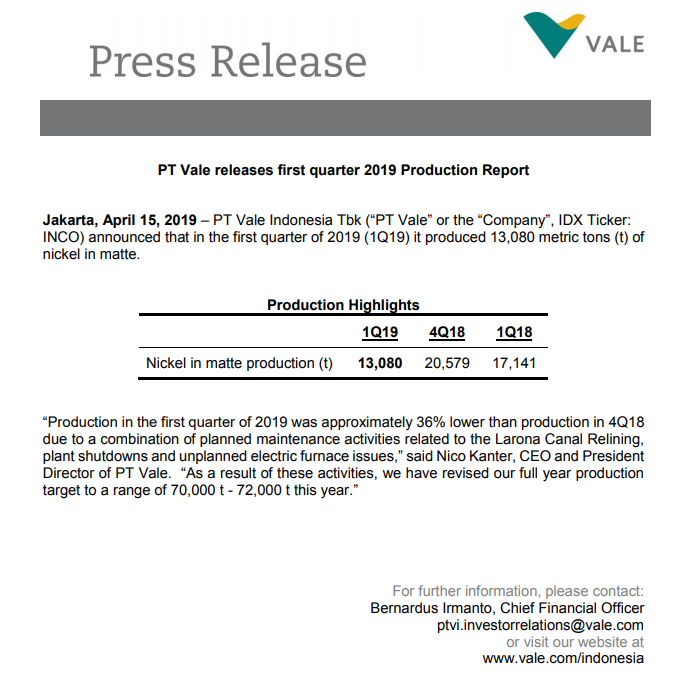 For more information, please subscribe to the "China Ni-Cr stainless Steel Industry chain General report" and "China Ni-Cr stainless Steel Industry chain High end report" of SMM nickel research group products. Get the latest nickel ore, nickel pig iron (China + Indonesia), electrolytic nickel, nickel sulfate, chromium ore, ferrochromium, stainless steel (China + Indonesia) related data analysis and market analysis! For order and trial, please call 021 5159 5864 QQ 2880 950818, contact: Wu Ruoyao
(Wu Ruoyao TEL: 021 5159 5864 QQ: 2880950818)