SMM, 26 Sep: the price of imported copper concentrate TC hovered around US $80 / ton from March to May this year, and rose all the way after June. As of September 21, the average weekly TC price of imported copper concentrate calculated by SMM is US $90.50 / tonne. The market is waiting for the long order negotiation of LME WEEK and the final price to be determined at the CESCO meeting in Shanghai. In September, mainstream trading remained around $90 per tonne of TC.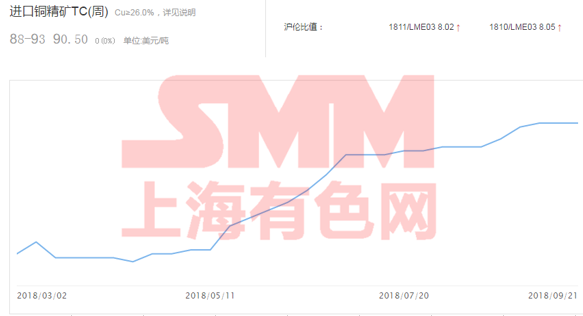 The LME WEEK, to be held on October 8, has become the latest highlight. Usually, the London conference is the forerunner of the annual long list negotiations. Mines and smelters will first approach and express their views on the coming year. The final price will be decided at the CESCO meeting in Shanghai. Therefore, the recent trading atmosphere is more calm, refineries buy in general, traders do not have too much inventory, the two sides show a slight stalemate, the mainstream transaction remains in the vicinity of TC $90 / ton.
At that time, the miners will focus on smelting production for 19 years and the tightening logic of copper mines. Refineries will rely on the current spot high TC and the strictness of domestic environmental protection. With the approach of LME WEEK and CESCO meetings, long single negotiations will enter the final game.
Will the strike make a comeback in 2019 and what is the growth rate of copper concentrate? Can the current situation of domestic copper scrap cycle system make up for the gap of copper scrap import? New energy is expected to support copper consumption? Please pay attention to the "2018 China Nonferrous Metals Annual meeting and 2019 (SMM) Metal Price Forecast Conference" held by Shanghai Nonferrous Metals Network in Shanghai on October 19, at which there will be industry bigwigs, executives of well-known enterprises, and senior analysts of SMM copper. For everyone to see the sun, a detailed explanation of the copper market. At that time, more than 1000 elites and institutions in the industry will gather together, and there will be more than 10 well-known media reports at home and abroad. An industry feast is coming, we are waiting for your arrival!
Since the promotion of the 2018 Annual meeting of the Nonferrous Metals Industry, it has received great support and attention from the industry, and the registration of the meeting is still in progress! Commodity sector treacherous, brainstorming of the year again, how can you be absent! Less than a month from the 2018 China Nonferrous Metals Annual meeting and 2019 (SMM) Metal Price Forecast Conference!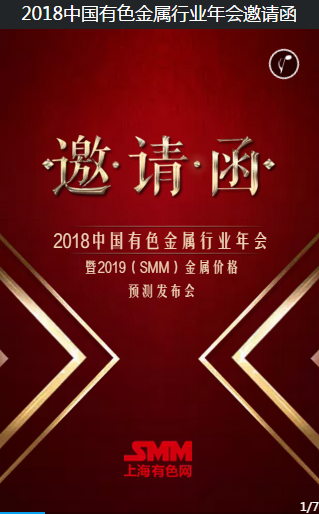 "Click to enter the registration channel