SMM, Sept. 13: according to a survey conducted by Shanghai Nonferrous Network (SMM), the operating rate of galvanized enterprises in August was 81.78%, up 3.44% from the previous month and 2.7% lower than the same period last year.
In August, gas restriction in Tianjin had a significant impact on small factories, while environmental protection inspection in Jiangsu and Zhejiang mainly restricted production in small factories, some orders were transferred to large enterprises, and a small increase in the opening rate in August was mainly contributed by large enterprises. In addition, some medium-sized enterprises recovered from the shutdown of production, resulting in an increase in the opening rate in August. However, due to poor sales, enterprise finished product inventory continues to grow.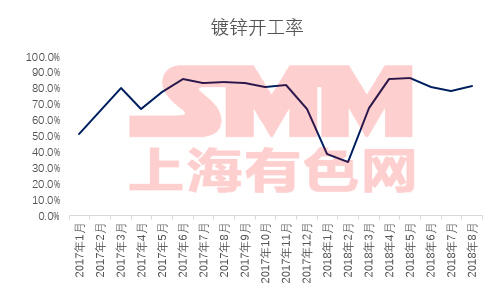 Gold nine silver ten has arrived, the enterprise is expected to go out of the off-season, according to the enterprise early production plan, the galvanizing start-up rate will rise slightly to 83.04% in September, 1.26 percentage points higher than the previous month, down 0.85 percentage points from the same period last year. Main cause:
First, the weather turned cool in September, the construction site to pay close attention to production, the release of some orders to start galvanizing, the output of large galvanized enterprises has increased, but poor sales lead to the accumulation of finished product inventory makes enterprises slightly inadequate confidence in the future market; In addition, at the beginning of the month, environmental protection inspection in Jiangsu and Zhejiang, some small enterprises were forced to limit production, orders were transferred.
Second, according to SMM research, the release of power grid construction orders, some of the bid-winning enterprises will be outside the order committee to the surrounding enterprises or near the bid-winning project production, leading to the surrounding galvanizing start to improve. However, it should be noted that due to the problem of payment cycle, some enterprises are unable to accept entrustment or reject such orders, iron tower plate enterprise orders are divided.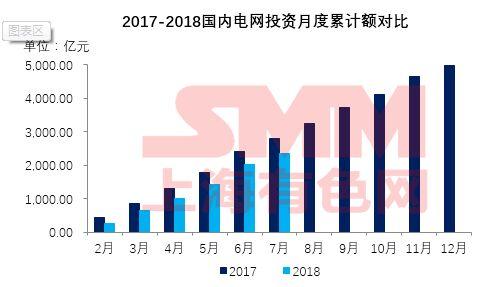 Third, the gold nine silver 10 is also the steel enterprise production peak season, the galvanized sheet production is more active, but because the trade storm intensifies, the galvanized product export order slightly reduces, the zinc demand is affected. Due to the temporary non-publication of customs data, it is not possible to quantify this part of the impact.
In summary, the prospect of galvanizing in September is not clear, the operating rate is temporarily difficult to restore the peak season level.