SMM, April 10: according to SMM research, PT Macika Mada Madana was approved in early April for an export quota of 1 million wet tons of nickel ore, with Ningbo Minghui Mining Co., Ltd. jointly investing 50 per cent of PT Macika Mineral Industri () and is expected to ship this month. In addition, Indonesia's Antam has also been granted a nickel export quota of 2.7 million wet tons, which has been tendered and will be shipped in the middle of the month. As of April 9, Indonesia approved a total nickel mine quota of 32.09 million wet tons. the latest Indonesian nickel mine export quota table is as follows: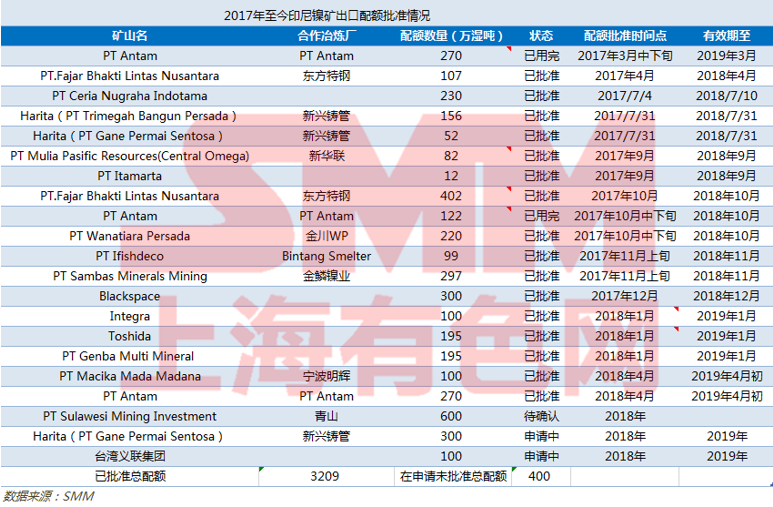 Among them, with the exception of Integra and PT Genba Multi Mineral, the rest have been shipped or have been quoted in the discharge of the ship.
Shipments of nickel ore have continued to increase since Indonesia relaxed the ban on nickel export. according to customs data and statistics on Indonesian imports in March, SMM exported about 8.45 million wet tons of nickel ore to China from 2017 to the end of March 2018. Together with some low-grade nickel ore, China has imported about 9.58 million wet tons of Indonesian nickel ore, as shown in the following figure.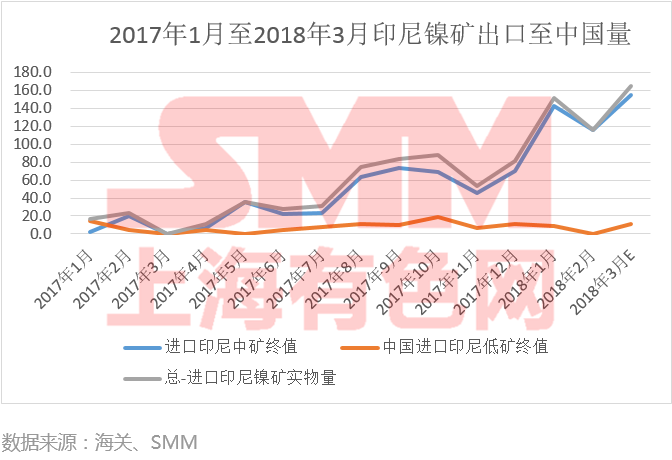 In addition, according to SMM data, the seasonal study of nickel imports in the Philippines is shown in the figure below. As can be seen from the figure, in the second quarter, the supply of nickel mines in the Philippines will gradually increase, as the Suligo region comes out of the rainy season, shipments will gradually stabilize.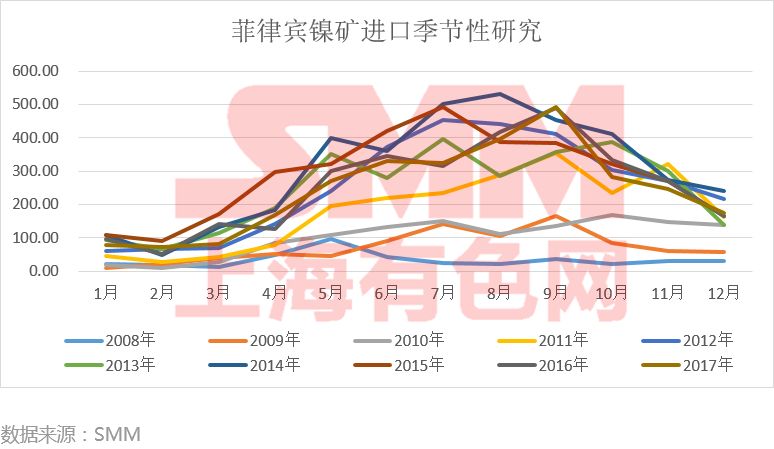 In summary, after entering the second quarter, the surplus supply of nickel ore will gradually appear, and the weak pattern of nickel mine price will be difficult to change. SMM expects CIF prices in Indonesia's Ni1.65% medium nickel mine to fall to around $35 per wet ton in May, compared with $43.5 per wet ton on April 4.
(for more information, please consult SMM Tel:021-51666865, if you think it is valuable, please move your fingers to help forward it!) )
Tip: SMM has built a question and answer platform has been launched, you have any industry questions can be asked on this platform, there will be professional analysts for you to make a detailed interpretation! "Click to view details