SMM News: the 2018 (13th) Shanghai lead-Zinc Summit will be held in Nanning, Guangxi, from May 24 to 26. At that time, the lead and zinc industry will gather to explore the road of industry transformation, more SMM industrial chain information release, comprehensive integration of resources, directly hit the forefront of lead and zinc market.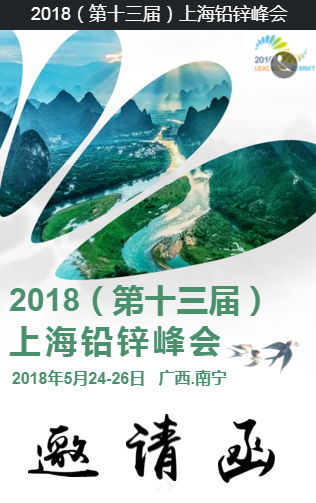 "Click to enter the lead-zinc summit registration channel
So far, more than 500 people have signed up for the summit, but also sponsored by nearly 30 enterprises, its opening day can be imagined!
Recently, Quanzhou Weibai Industrial Robot Research Institute Co., Ltd. also threw olive branches, will co-host the event.
What kind of powerful company has become the co-organizer of the lead-zinc summit?
Let's see what it is!
Quanzhou Weibai Industrial Robot Research Institute Co., Ltd.
Quanzhou Weibai Industrial Robot Research Institute Co., Ltd. was established in 2003, is committed to industrial robots as the core of digital, intelligent production equipment and system solutions research and development, production and sales of high-tech enterprises.
Weber now has a software and hardware technology research and development team with many years of professional experience. And with Sichuan Aerospace Industry Group and other well-known enterprises and overseas Chinese University, Xiamen University, Fuzhou University and other universities and scientific research institutions to establish a long-term strategic partnership. In 2017, Weibai Company was appraised as "New R & D Institution of Fujian Science and Technology Department" and "mass entrepreneurship and innovation demonstration Base" respectively. Strong professional R & D team, more than 30 patents and ISO9001:2008 product quality management system, manipulator application system and manipulator body prototype line and other professional production lines, for Weibai development of customer demand for a series of products to provide a strong guarantee. It also makes Weber enjoy a high reputation for technological innovation and product quality.
Weber's main products and services include: integrated application system services for all kinds of industrial robots, manipulator series products, and non-standard automation equipment, etc. It can be widely used in many industries and fields, such as non-ferrous metal melting and casting, machine tool loading and unloading, assembly, spraying, welding, handling, palletizing, polishing, grinding, injection molding and so on. Through years of technology optimization and upgrading and marketing, Weibai Company has set up a special technical team, after-sales team and sales team aimed at providing customers in the non-ferrous metal melting and casting industry with a more comprehensive, professional and stable automation program; The casting automation equipment of Weibai is mainly used in the ladle liquid pouring mould in the production process of non-ferrous metal ingots, scraping the oxide scale on the surface of ingots and stacking ingots. The equipment has been sold to many provinces in the country, and has reached project cooperation with the leading enterprises in the domestic non-ferrous metal industry.
Adhering to the core concept of "becoming in small places," and the enterprise spirit of "breaking through science and technology and creating the future," Weibai will continue to open a new chapter in industrial automation with strong technical strength and professional technological innovation ability, with industrial robots as the nuclear people. Strive to be the leader of "Chinese wisdom".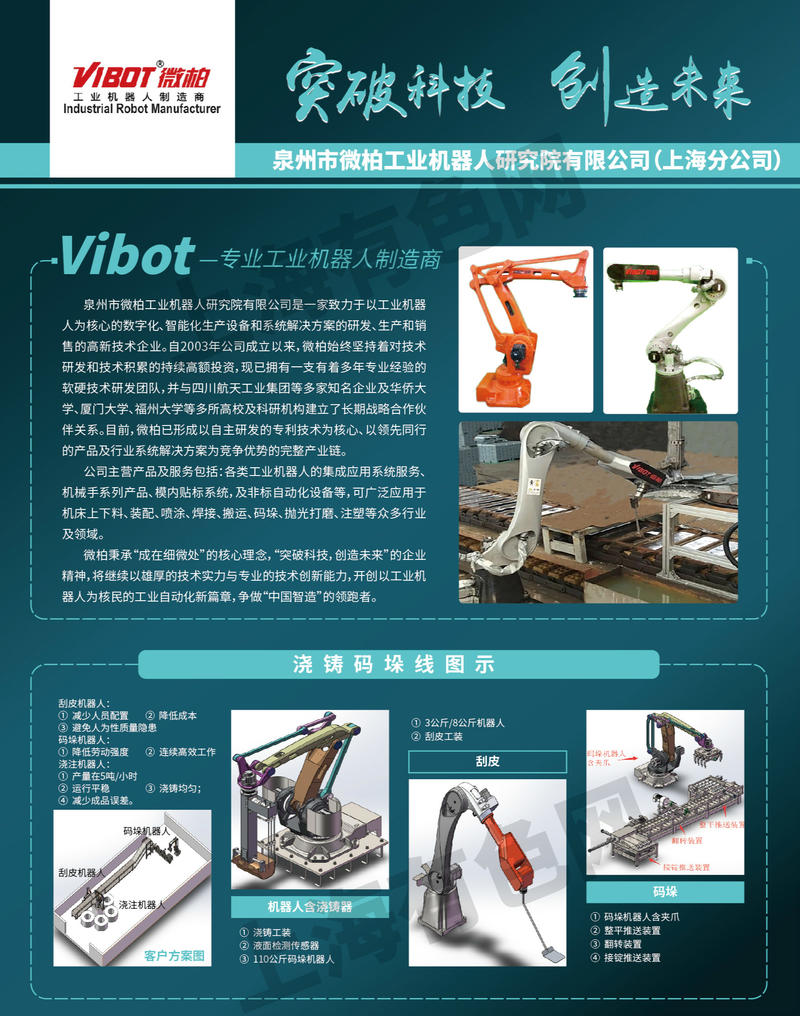 Contact: Cai Lijun
Contact: 15059639579 0595 22710099
Address: Bei Qing Dong Lu, Fengze District, Quanzhou City, Fujian Province
Web site: http://www.mp-cnc.cn
E-mail: sales005@vibot.com.cn