SHANGHAI, Nov.22 (SMM)-LME Inventory continued to drop over 7,000 tonnes last night. LME Copper rebounded under this influence. SHFE Copper followed with LME with less strength. LME Copper has broken top of downward channel since mid-October but SHFE Copper finished at top of the channel today.
Recent drop of LME Copper inventory has driven copper price with weakened US dollar. LME Copper inventory on Nov.21st was 234,375 tonnes, dropping 40,250 tonnes compared with 274,625 tonnes in late October. We need to think over the reason of dropping inventory.
Up to Nov.17th, copper inventory at SHFE was 162,800 tonnes, up 54,905 tonnes compared with 107,892 tonnes on Oct.27th with 51% rise.
On Nov.21st, copper inventory at COMEX was 209,624 short tonnes, up 3,525 short tonnes compared with last month.
With regard to total number of global three dominant inventory, the inventory is still in rise. SMM learned that the drop in inventory of LME Copper is not driven by better global demand but inventory's transfer to China.
Profit-gaining window for import opening, huge amount of imported copper flows in
Since September profit-gaining window for imported copper spot has been open, which is the main reason for monthly rise of number of imported copper. On the other hand, premium of copper spot for domestic trader has existed since September. Also holiday in October has slowed down stockup speed of downstream enterprise, which leads to great demand of stockup after holiday. With the yearend coming, traders have some difficulties in import procedures. Their active import actions previously is another reason for rising number of imported copper.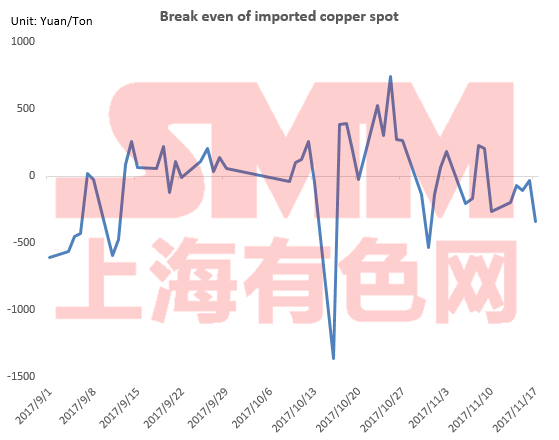 Seasonal consumption weakens, Copper premium turns into discount
Huge inflow of imported copper in November causes enlarging discount of domestic copper spot. SMM learned that the supply is basically sufficient now.
Xu Jinqiao, SMM analyst says, recent days see copper import in loss status. Close of profit-gaining window slows down import speed. Despite of this, there is sufficient supply in domestic market. Operating rate of smelting plant has been in high level till yearend.
As per latest statistics, operating rate of copper pipe enterprises in October is 78.92%, rising 6.22% on yearly basis but drop 1.02% on monthly basis.
Xu also mentions that downstream demand has weakened due to seasonal reason. With slow speed of inventory consumption, discount of copper spot will still exist.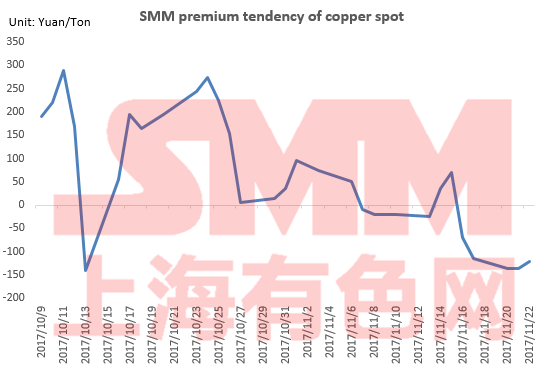 Generally speaking, consumption will keep weak in the short term with sufficient supply. Continuous discount of copper spot will lower core of copper price but the price contradiction is not very fierce yet. The volatile tendency will not dominate. Need to focus on transfer pace of LME Copper inventory to SHFE inventory.
---
For news cooperation, please contact us by email: gaotian@smm.cn or service.en@smm.cn.