Market summary: this week bismuth producer inventory remains low, shipment slightly faster, holders cherish the selling mood slightly alleviated, a week of market suspension rebound and began to stabilize, downstream traders and terminal procurement situation in the first half of the week is more active, the second half of the week tends to be flat, to the weekend SMM bismuth ingot transaction price in 42500-43500 yuan / ton, the average price is stable compared with last week.
Factory dynamics: with the rise in bismuth prices last week, manufacturers began to boycott the shipping tendency to gradually change, although the market miscellaneous bismuth basically has no impact on the brand supply, but the shipping rhythm of suppliers began to speed up slightly. In the case of a large supply of raw materials, procurement is not a problem, at present, some production enterprises said that once the market rises steadily, they can normally produce and ship goods, and then look for low-cost raw materials to alleviate the current situation of low supply of bismuth inventory.
Raw materials: this week bismuth price is stable, as the buyer's manufacturer procurement enthusiasm is OK, lead bismuth alloy supplier quotation with the market, but because the raw material end supply exceeds the demand condition is more obvious, the buyer pressure price strength is bigger, the actual transaction has the room to talk about.
Downstream market: this week bismuth prices stabilized Chenzhou speculation pressure sentiment weakened, although individual buying is still strong in the first half of the week, but the second half of the week has been weak. Downstream terminals continue to wait and see, purchasing cautiously according to demand replenishment.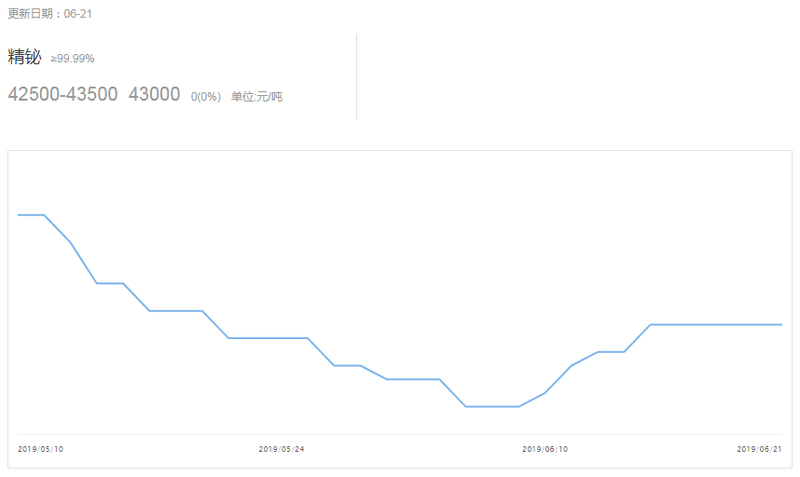 "View the historical price of SMM exclusive bismuth
The market as a whole is stuck this week, and supply and consumption will be more volatile next week. Where bismuth prices will go in the near future depends on whether consumer demand is still speculative or not.