SMM6, April 4-US President Donald Trump announced on May 31 that the United States will formally abolish trade preferential treatment in India next Wednesday. This is another blow after Trump announced on May 30 that he would impose a 5% tariff on all Mexican imports to the United States from June 10.
What is Trump's intention to make a lot of punches? We can analyze it one by one.
On May 30, Trump suddenly tweeted that he would raise taxes on Mexican products entering the United States to solve the problem of illegal immigrants.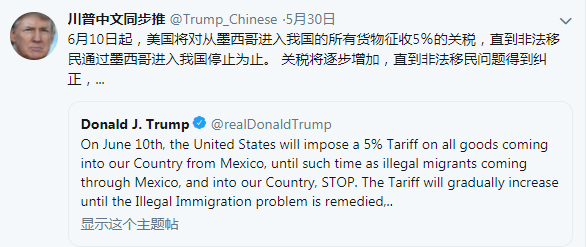 Where and where is this? What does illegal immigration have to do with trade? Besides, didn't the United States eliminate a one-year tariff on steel and aluminum for Canada and Mexico on May 17? Why did Trump change his mind in less than half a month?
It can be seen that Trump has completely regarded tariffs as a sharp weapon in his own hands, and everything that is unfair or detrimental to the United States can be used to force opponents to give in through a tariff war, and this is Trump, who does look quite rogue. But it is also very practical.
As for India, the removal of trade preferences would have a direct impact on the $6 billion of products currently duty-free under the GSP, a tough move by Mr Trump against the rise of India. India has been the biggest beneficiary since the GSP was introduced in the United States in 1976. In recent years, India's economy has outpaced China's, development is booming, and demographic dividends are being released. In 2018, India was the tenth largest supplier of goods to the United States and the 13th largest export market. The total amount of goods imported from India by the United States was $54.4 billion, an increase of 11.9 per cent ($5.8 billion) over 2017 and 111.7 per cent over 2008.
In addition to the US trade deficit of US $21.3 billion with India, the development potential of India's economy is also of great concern to Trump, who is worried that India will challenge US supremacy after its future economic development. We in China are a good example. With its reform and opening up, China has made achievements that have attracted worldwide attention. In just 40 years, its total economic output has become the second largest in the world. When the United States recovers from the great cause of anti-terrorism, China has become a powerful country. Therefore, the crackdown on China by the United States is inevitable.
It can be expected that Trump will continue to fire fully in the area of trade. As president of the United States, Trump's power is in fact relatively limited. Tariffs involve the economic interests of countries all over the world, and the United States is the largest single consumer market in the world, and the products of all countries will enter the US market. In this way, tariffs are indeed a universal trump card in Trump's hands, and Trump is going to use this trump card to rip off the world to achieve what he sees as "making America great again."