SMM2, March 25: the Shanghai tin market rose 2.19% in early trading this morning, hitting a new high since November 20, 2018, and the 1905 contract hit a new high since November 26, 2018. SMM believes that the surge in tin prices is mainly due to the silver mining accident to increase tin supply tightening expectations, in addition, macro, Sino-US trade negotiations have made phased progress, US President Trump said that substantive progress has been made in the negotiations. The United States will postpone measures originally scheduled for March 1 to impose tariffs on Chinese products. "View detail
Affected by the decline in the supply of imported tin mines from Myanmar, expectations that the supply of domestic tin mines will continue to tighten in the near future, the Yinman mining accident will undoubtedly make the market more worried about the supply of tin mines this year. This has strongly pushed up the price of tin in and out of the market. The Shanghai tin 1905 contract hit a peak of 153490 yuan / tonne and continued to fluctuate at a high level this morning, while Lunxi hit US $21690 / tonne above. Short-term need to pay attention to the progress of the event and changes in market sentiment, tin prices are expected to be supported by the news to maintain a strong trend in the short term.
How sure is it that the tin price of the Burmese tin mine story will continue to rise to 160000?
There was a general correction in global commodity markets in 2018, indicating a lack of support for global demand. As the largest tin consumer, what is the impact of the slowdown in China's economic growth on the downstream tin industry? The story of supply focuses on tin mines in Myanmar. Is there still a chance to help tin prices climb back to the 160000 yuan / ton mark in the future? Tin mining in the WA State of Myanmar has declined. How is the progress of tin resources exploration and exploitation in other areas? Shortage of raw materials & is domestic tin smelting capacity facing decline under low processing fees? Shanghai Nonferrous Network invites you to "2019 tin industry chain international summit", together to see the sun! "Click to sign up for the SMM Tin Summit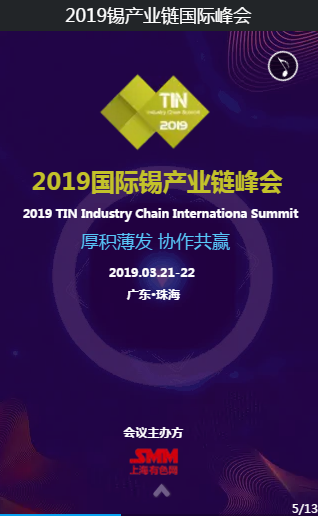 "Click to sign up for SMM Tin Industry chain Summit