SMM11 14 news: early in the morning on the network was brushed by the news of the collapse of crude oil.
From the front 11 K lines, basically belong to a small negative decline, trading volume is not magnified, friends who understand the disk can basically conclude that sooner or later there will be such a: short positions waiting for concentrated explosion, accelerate to the bottom, wait until the short is out, Bulls have a chance to build positions to stabilize the market, a process that will take a long time after oil prices fall into a bear market, and when bears dominate, the reversal of the trend is relatively difficult, and the possibility of a sustained collapse cannot be ruled out. Professor Wang Zairong, a prominent economist, said that the next biggest resistance level for PetroChina is around 50, and 50% may exist, but the decline will stop at 50%.
Some traders said today's sell-off was a continuation of Monday. At 1 p.m. EDT, President Trump tweeted, "I hope Saudi Arabia and OPEC will not cut oil production." In terms of current supply, oil prices should fall sharply! " Subsequently, the price of American oil fell sharply, falling 1.69% on the same day. By yesterday, the market was fully fermented and the price completely collapsed.
With the landing of US sanctions against Iran in early November, the effect of the sanctions was not as expected, and OPEC members began to consider cutting production to push up oil prices. Since May, the three major oil producers have competed to increase production because of concerns about a reduction in Iranian oil production, with the United States and Russia setting their highest production records and Saudi Arabia nearing an all-time high. Market concerns have been raised as demand weakens further as a result of the malaise of the world economy. Coupled with the Fed's high probability of raising interest rates in December, oil prices continued to fall under multiple factors.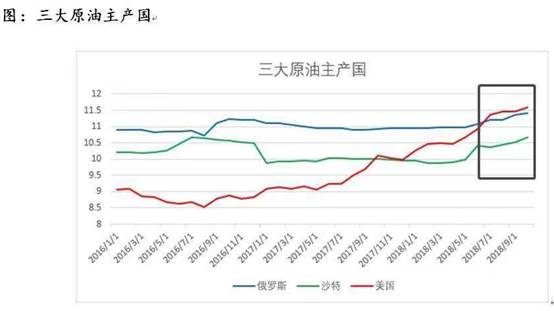 What is worth paying attention to here is the change of American oil. The surge in crude oil production in the United States in recent years may be unexpected, turning the United States from the largest oil-needing country to the largest oil-producing country, and oil production can not only meet domestic demand, but also be exported. According to data recently released by the US Energy Information Administration (EIA), the US crude oil output in October was 11.35 million barrels per day, with exports as high as 2.4 million barrels per day, and export destinations were also expanding. It currently covers areas as far away as South Africa, Indonesia and even Oman.
The surge in crude oil production in the United States comes from its shale gas, which, to be exact, is shale oil. Shale oil is a kind of unconventional oil, which mainly exists in shale strata and is not easy to exploit. The United States began to study the methods of extracting oil and gas in shale a long time ago. In the 1990s, Michelle, a legend in the energy world, was the first to invent the use of hydraulic fracturing technology, which was a great success in the field of shale gas. The technology spread rapidly, and 10 years later, when it was successfully applied to shale oil, shale oil production in the United States began to explode, and shale oil production has doubled since 2010. The development of shale oil has made the United States no longer subject to oil-producing countries in the Middle East, and has given birth to a strong energy industry chain in the United States, feeding a large number of American workers. Especially after Trump came to power, Obama's path to new energy was overturned, and traditional energy began to rise, making a lot of oil merchants make a lot of money, increasing production, and rising inflation. The US economy is enjoying its biggest boom since the financial crisis.
The sharp fall in oil prices will inevitably hurt the interests of the oil companies behind Trump, which is not good for Trump, but he still insists that OPEC will not cut production and allow oil prices to fall sharply, which may be based on two considerations:
1. High oil prices push up domestic inflation, and the Fed's rate hike is not just a concern for Trump, so the fall in oil prices suits Trump's wishes.
2. Crack down on OPEC, while cracking down on Russia, hoping to take advantage of OPEC, in the energy sector.
Of course, after the United States becomes an oil exporter, high oil prices are bound to become a reality. If China wants to break through energy constraints, on the one hand, it has to step up exploration in the field of new energy to reduce the demand for oil, and on the other hand, it has to find a way to exploit China's shale oil, which, after all, has huge reserves.