SMM: China's steel exports from January to April fell 20 per cent from a year earlier to 21.6 million tonnes, according to data released today by the General Administration of Customs. China Steel Association released data on April 27, in the first quarter, the country's exports of steel 15.15 million tons, down 26.4 per cent from a year earlier. Exports of about 5 million tons a month are basically back to 2013 levels. Judging from the data, although the decline in exports narrowed in April, it did not abate. over the same period, India's steel industry developed rapidly. India's steel production overtook Japan this year to become the world's second-largest steel producer, according to media forecasts. India will be a strong competitor to China's steel industry.
Imports also increased in the previous financial period. Imports of finished steel rose 3.5 per cent to 7.482 million tonnes from 7.226 million tonnes in the previous fiscal year. The non-alloy steel plate contributes 5.636 tons, and the rest comes from the alloy steel plate, including stainless steel.
In the first quarter of 2018, India's total finished steel sales were 104.966 million tons, up 3.1 percent from the same period last year, with non-alloy steel plates selling 95.004 million tons, while the rest came from alloy steel plates, including stainless steel. Between 2017 and 2018, major producers (SAIL, RINL, Tata Steel, Essar Steel, JSW Steel and JSPL) produced a total of 62.626 million tons, with the rest coming from other producers.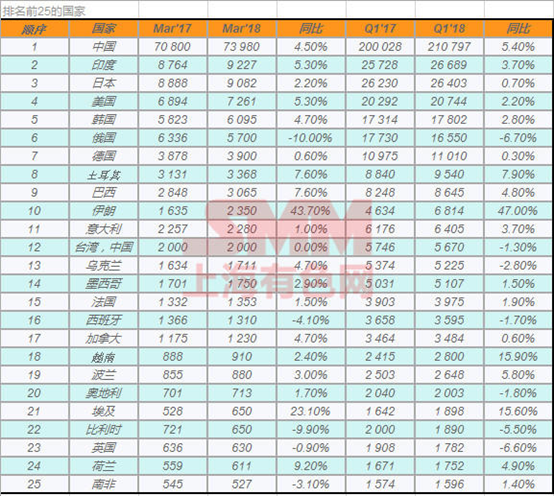 World crude steel production ranking unit: thousands of tons
SMM analysis believes that China's steel exports are expected to continue to decline as China's de-capacity policy advances, coupled with the uncertainty caused by the current trade friction. But as far as the current figures are concerned, India's steel exports account for 1/10 of China's steel exports. Although India's exports are growing alarmingly, it will take time to overtake China. In this regard, we do not have to worry too much about the ranking of the data. the steel industry is the foundation of a country's industry, but with the development and transformation of the economy, the heavy "quantity" will gradually shift to the heavy "quality," taking the crude steel production in the United States in the first quarter of 2018 as an example. The United States produced 20,292 tons of crude steel in the first quarter, compared with 2,028 tons in China over the same period, while the United States high-end manufacturing and special steel industries have maintained a leading position in the international market.
Related news:
India, the world's second-largest steel exporter, is expected to break record crude steel production in fiscal 2018
India's iron ore production breaks through 200 million tons for the first time in seven years
India's steel industry opens its largest steelmaker to double capacity
India to claim tariffs on imports of Steel and Aluminum from the United States at WTO
Zhang Qian compiled from https://steelguru.com/steel/indian-steel-exports-in-fy18-surge-by-17pct-yoy/508771#tag if you have copyright problems, please contact us.