SHANGHAI, Dec 19 (SMM) – In addition to raising the import tax on nickel ingots, China's new import and export tax regime starting in 2018 would also have an impact on non-alloyed nickel and nickel sulfate. SMM takes a closer look at these adjustments:
1. Other non-alloyed nickel (HS code 75021090) will see its provisional import tax raised to 2%, from 1%. This mainly includes nickel plates from Norilsk Nickel and South Africa.
2. High-purity nickel (HS code 75021010) will see its provisional import tax unchanged at 1%. High-purity nickel is defined as containing at least 99.99% nickel and cobalt content, but no more than 0.005% of cobalt content.
3. Nickel sulfate (HS code 28332400) will see its import tax reduced to 2%, from 5.5%. Currently over 60% of nickel sulfate is used for ternary precursor (NCM, NCA) production whereas the rest is for electroplating.
According to customs data, China's non-alloyed nickel imports for the first 10 months of this year totalled 159,000 mt. Materials from Australia and Madagascar were exempt from import tax due to China's free trade agreement with Australia and preferential tax policies with African countries. In fact, the new import tax adjustment will have no impact on cargoes from these countries.
We believe nickel production in China would not be affected following the import tax adjustment but spot premiums at bonded area would see some changes according to downstream demand.
In addition, we think Russia is likely to increase its nickel sales to countries other than China in 2018. But Chinese buyers are likely to buy more imports in the last two weeks of this year before the new scheme kicks in.
For stainless steel mills, this means they are likely to use more nickel pig iron as the new import tax increases costs for refined nickel.
On nickel sulfate, China's import during January to October totalled just over 6,000 mt, which translates to 1,300 mt of nickel metal content. Most imports came from Australia and India.
We see limited impact on nickel sulfate imports with lower tax as Australian cargoes are pricy and some specifications of Indian materials do not meet Chinese buyers' requirement.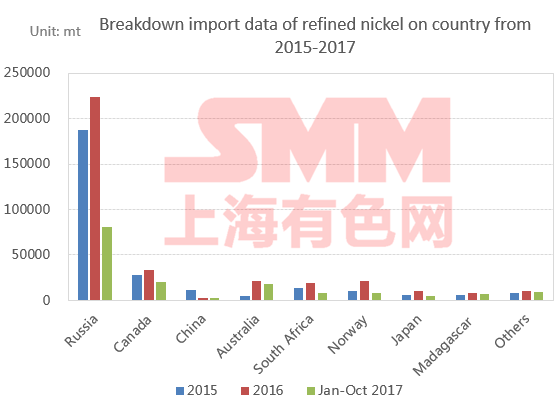 ---
For news cooperation, please contact us by email: gaotian@smm.cn or service.en@smm.cn.