SHANGHAI, Nov 10 (SMM) – Price of zinc oxide has been on a rise since the end of 2015. According to the data from SMM, the price of zinc oxide in China has been up by 19% since the beginning of 2017. It is propped up by the favorable fundamentals. Liu Mengyue, analyst of zinc and lead industry, interpreted the zinc oxide market on the (5th) Transaction Summit of Zinc Oxide Industry Chain Products in 2017.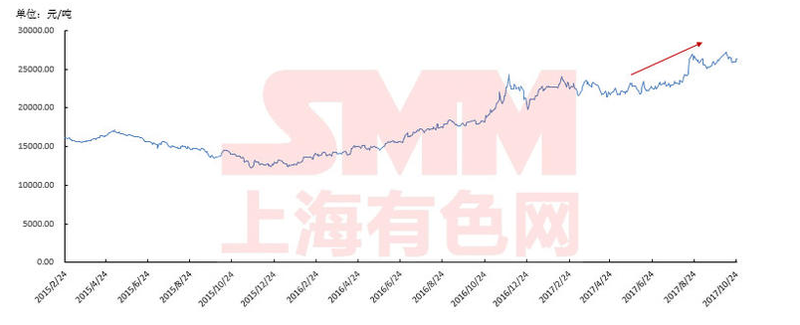 Zinc oxide output has grown at a steady pace in 2017. According to the research by SMM, the average operating rate of zinc oxide was 58.06% from January to September, 2017, 2.06% up YoY. The main reason is the increasing output and sales of cars, and the rising demand of tyres stimulates the factories' output of zinc oxide.
Import of zinc oxide has an obvious rise in 2017 than the last 2 years. It rose by 7.9% from January to August on a year-on-year basis. Exports, however, was on a rise and then decline compared to last year. On a year-on-year basis, it rose by 66.4% YoY from January to March, and April's export was less than it had been 12 months ago. Exports rose by 7.9% YoY from January to August, and it was a relatively good volume. The supply of zinc oxide in the market was overall steady.
From consuming ends, tire rubber took the lion's share of the zinc oxide consumption, nearly 50%. Ceramics took up more than 20%. The output of car tires has been on a steady increase from 2012 to 2017. The production in 2017 was more than it was last year. Output of rubber tire cover rose by 1.2% YoY from January to September, and radial tire output rose by approximately 10%. They stimulate the increase of zinc oxide consumption in the market.
The stable output and surging consumption of zinc oxide in 2017 led to a shortage of supply which resulted in the surge of the price.
In general, Liu believed that the development of zinc oxide market is filled with chances and challenges. Centralization of the zinc oxide industry becomes faster along with the increasing effort on environment protection, and the development of the industry will go further. The future of zinc oxide market is still bright in general and will be better in the long run.