SHANGHAI, Aug. 9 (SMM) – China Aluminum International Trading Co. (Chalco Trading) has been hiking aluminum prices it offered across major markets sharply for three days in a row.
Breaking News: Weiqiao Group and Xinfa Group Ordered to Close Illegal Aluminum Capacity
The prices it offered are already close to 16,000 yuan/tonne, possibly due to lots of output cut news recently, SMM understands.
Aluminum Still Has Room to Rise on New Reason for Longs to Jump in, SMM Expects
For details, please see the table below:
Unit: yuan/tonne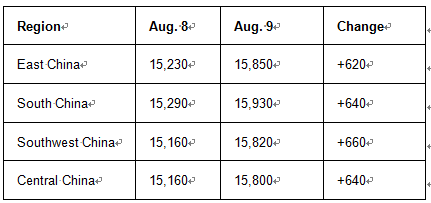 Note: Chalco Trading is a full subsidiary under Chalco responsible for alumina and aluminum sales.
For news cooperation, please contact us by email: sallyzhang@smm.cn or service.en@smm.cn.