SHANGHAI, Jun. 7 (SMM) – Base metals dived across the board at the tail of trading on June 6 and LME three-month copper plunged by 1.6% briefly.
SMM copper senior analyst Ye Jianhua learns that downstream demand is likely to weaken and risks are backlogging, with rising inventory of air conditioners, negative growth in auto sales and anticipation of falling copper consumption from power wire&cable sector. On the other hand, global apparent inventory stays high on a yearly basis and the decline is easing. Copper supply will increase in the second half of 2017 when China's copper smelters reopen from maintenance and enter new capacities into operation.
Lead Prices to Stay Firm on Positive Fundamentals, SMM Forecasts
On the inventory front, LME, COMEX and SHFE copper inventories have exceeded about 238,000 tonnes seen at the same time of last year, with COMEX copper inventory up 3 times and LME copper inventory doubling. China's State Reserve Bureau stockpiled 150,000 tonnes of copper in January-April 2016, but this failed to support copper prices. So, the stockpiling may not prop up copper prices this year.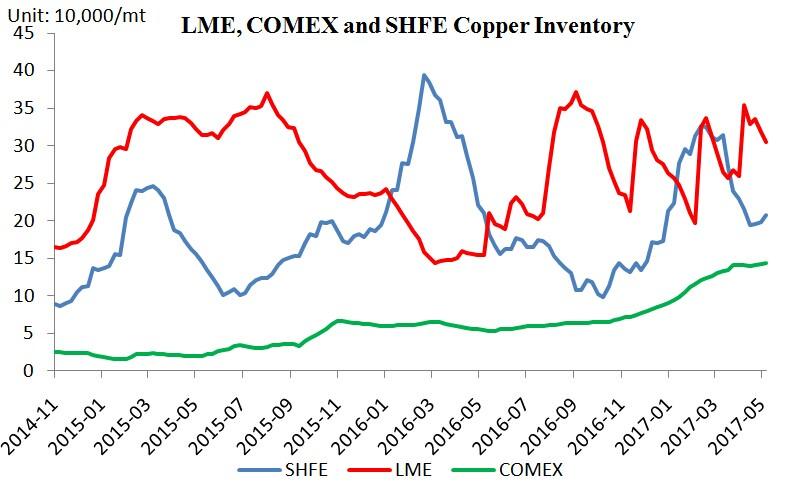 High inventory and sluggish domestic demand will weigh down copper prices, which will remain in downward track for a medium term in face of deleveraging and falling real estate market in China and balance sheet cut in US, SMM expects.
China Spot Copper to Hold Discounts This Week, SMM Reports
In a short term, copper prices are predicted to drop further. Market participants are suggested to be wary of investment this week in face of uncertainties, including UK's presidential election, European Central Bank's rate decision, US's hearing on Trump-Russia probes and China's May balance sheet and inflation data.
Luo Liang from SHZQ Futures forecasts copper prices to drop slightly for a near term as LME copper inventory will rally with large proportion of cancelled warrants and high discounts of copper prices. Big decrease in ferrous metal prices has raised market pessimistic outlook, which will dominate commodity prices movements.
For news cooperation, please contact us by email: sallyzhang@smm.cn orservice.en@smm.cn.