by Jeff Yoders on FEBRUARY 13, 2017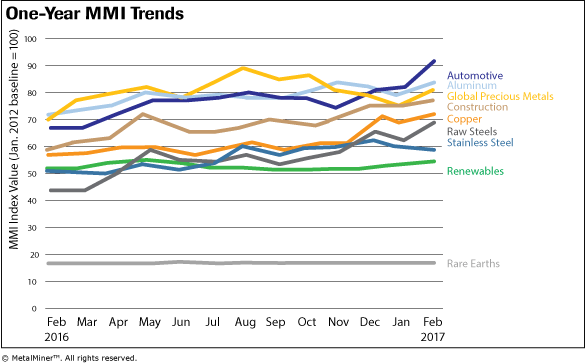 Our suspicions were confirmed when almost all of our sub-indexes had big price rebounds this month. The Automotive MMI jumped 12.2% Raw Steels 8% and Aluminum 6%. Even our Stainless Steel MMI only dropped 1.7% and has taken off since February 1 as nickel supply is even more in question now with both the Philippines and Indonesia's raw ore exports in question.
The bull market is on for the entire industrial metals complex. Last month's pause was necessary for markets to digest gains but the strong positive sentiment for both manufacturing and construction shows no signs of ebbing in the U.S. and Chinese markets.