by Raul de Frutos on FEBRUARY 9, 2017
Tin prices plunged 9% since the year started, hitting a five-month low. There are two factors driving this decline:
Profit taking: Prices rallied near 70% in 2016 and prices need to digest those gains.
Speculation that China has removed it's 10% export duty on refined tin exports.
After this decline, we believe buyers can now take advantage to time some purchases.
Prices Near Support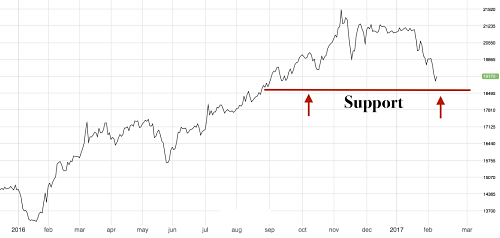 Tin prices are trading near key support levels. Source: MetalMiner analysis of FastMarkets.com data.
Technically, the recent price decline seems normal within the context of a bull market. In bull markets, buyers can find good opportunities to buy metal after prices pull back.
Tin prices are now nearing a support area where traders will likely lift prices, especially given the ongoing bullish sentiment across the metals complex.
The Removal of an Export Duty is Not That Bearish
Some say that China's removal of its export duty could have a significant impact but we don't necessarily agree. If China was a net exporter of tin, and prices in China were lower than in the rest of the world (as is the case with steel), then the removal of the export duties would have a significant impact on the market balance. However, that's not the case.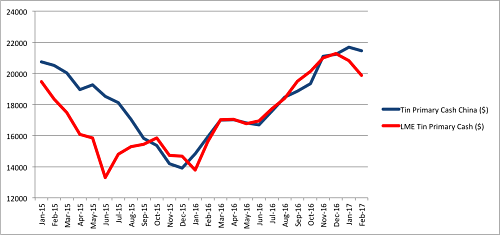 Tin primary cash China vs LME. Source: MetalMinerIndX.
China is a net importer of tin. In 2015 China produced 146,600 metric tons while it consumed 175,842 mt. In addition, prices in China are lower than those on the London Metal Exchange. Moreover, China is trying to curb local output of metal, including tin, to fight pollution.
For these reasons, we can't see why removing the duty would result in a flood of metal coming out of China. In anything, it will just encourage more refining.