Recent US economic data such as non-farm payrolls and US inflation have performed well, but Federal Reserve Chairman Powell has sent a signal that monetary policy will be loosened. Today, Chicago Fed chairman Evans, who has the right to vote next year, even hinted that the Fed could tolerate inflation of more than 2%, supporting a rise in risk sentiment, with the Dow Jones industrial average hitting an all-time high.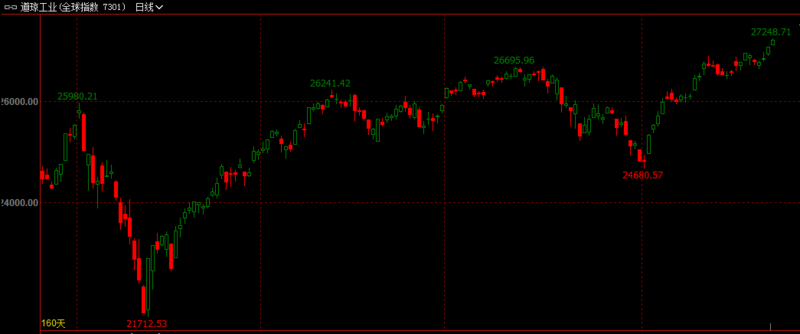 (the Dow Jones Industrial average hit an all-time high, daily chart)
Spurred by risk sentiment, the Dow Jones Industrial average hit an all-time high of 27248.71 for the second day in a row.
In an interview on the economy in 2019, Evans (Charles Evans), chairman of the Chicago Federal Reserve and chairman of the FOMC, said the current policy was broadly neutral, but could be looser if the goal was to boost inflation. Some of the Fed's policy goals should be to keep inflation above 2 per cent. Meeting the 2 per cent inflation target requires more policy support, and "multiple" rate cuts can raise inflation by 2021.
This suggests that the market may tolerate inflation of more than 2 per cent at a time. Data released this week showed that core CPI, excluding food and energy prices, rose 0.3 per cent in June, the biggest increase since January 2018, with core CPI rising slightly to 2.1 per cent, exceeding the target of 2 per cent.
Earlier, Federal Reserve Chairman Powell gave testimony to Congress that the US economy is still under the threat of disappointing factory activity, weak inflation and growing global trade frictions. Powell promised to "take appropriate action" to defend economic expansion threatened by global trade disputes and economic slowdown.
The strong non-farm data released on Friday also supported bullish sentiment in US stocks. In the United States, non-farm payrolls rose by 224000 in June, higher than the expected 165000, from 75000 to 72000, while the unemployment rate rose 0.1 per cent to 3.7 per cent in June from a month earlier, but remained at a 40-year low.