SMM7 12: early this morning, the non-ferrous metal market rose and fell, as of about 09:45, Shanghai aluminum fell nearly 0.7%, Shanghai lead fell nearly 0.2%, Shanghai zinc fell nearly 0.1%, Shanghai tin weak red, Shanghai copper rose nearly 0.3%, Shanghai nickel rose nearly 0.5%; In terms of lead, according to the investigation of Shanghai Nonferrous Network (SMM), this week (July 8-July 12), the operation rate of SMM primary lead smelter was 55.9% in three provinces, 68.4% in Henan primary smelter, 42.3% in Yunnan primary smelter and 43.4% in Hunan primary lead smelter. "Click to see: [SMM Survey] the stable weekly operating rate of primary lead refineries in the three places remains unchanged.
Black system, coking coal rose nearly 1%, iron ore rose nearly 0.5%, coke weak floating green, thread fell nearly 0.1%, hot coil fell nearly 0.4%; hot coil, according to SMM research, the total national hot coil inventory this week 3.3485 million tons, compared with last week + 3.9%, year-on-year + 6.9%. The rise in the general treasury this week was mainly due to the simultaneous increase in the factory treasury and the social treasury, both of which were the biggest gains in the near future. "Click to view: [SMM Hot Volume Review] warning! Some steel mills will resume production at the moment of inventory warning or will sound.
Crude oil rose nearly 0.7% in early trading; according to Huitong, the electronic price of WTI August crude oil futures closed flat at $60.43 a barrel on Thursday. Oil prices fell on Thursday as the Organization of Petroleum Exporting countries (OPEC) forecast a slowdown in demand for its crude oil next year, rising to a more than one-month high after US producers cut local crude oil production by nearly half in the run-up to the Gulf of Mexico storm.
Technical analysis:
Copper: at present, with regard to the continued fermentation of interest rate cuts by the Federal Reserve, the uncertainty of expectations of interest rate cuts in the United States has increased, and the market is waiting for guidance from the Federal Reserve. In addition, today focuses on the release of domestic social and financial data, copper prices are more likely to hit the short term. At present, there is a large gap in the bottom of Shanghai Copper, which is difficult to complete in a short time. Spot due to high and narrow range of market prices, market transactions are suppressed by high prices, and close to delivery, the overall trading environment stalemate, holders are expected to remain firm quotation. It is expected to be 5930 to 5970 US dollars per ton for today, 46400 to 46800 yuan per ton for Shanghai copper, and 60 yuan to 120 yuan per ton for spot water rise.
Aluminum: overnight metal red and green, Shanghai aluminum in its own weak fundamentals to spit out most of the first two days, is expected to run in today's day between 13700 to 13850 yuan / ton, overnight aluminum fell today also did not show a strong trend, is expected to run today between $1790 and $1850 / ton.
Lead: the structure of Lun lead has quietly changed, and under the delayed reproduction of overseas refineries, the market does not rule out the possibility of worrying that Lun lead will squeeze out again. Shanghai lead in the past two days above 16000 consolidation, but within the trend is not difficult to find long and short differences intensified, in the near future can wait for funds to make a choice.
Zinc: overnight zinc lost US $2400 / ton gate support, below the 5-day EMA bottom, however, under the contango structure, Lun zinc stocks recorded a decline, overseas markets still have certain expectations for the subsequent inventory increase, Geneva zinc is expected to run around $2360 to $2410 / ton. Overnight Shanghai zinc closed negative, the supply side of the recovery of the market for inventory accumulation expectations, but the spot discount continues to decline reflects the actual consumption is relatively weak, the basic support is weak, the daily Shanghai zinc or range of operation in 18750-19250 yuan / ton. Material 0 # domestic double swallow zinc increased by 50 to 90 in July.
Nickel: overnight Shanghai nickel 1908 opened at 103710 yuan / ton, at the beginning of the day, Shanghai nickel narrow range shock, rush up 104110 yuan / ton, and then fall down to 103000 yuan / ton line to get support. At night, Shanghai nickel pressure daily moving average, the center of gravity around 103300 yuan / ton small shock, closed at 103390 yuan / ton, night Shanghai nickel position reduced by 1968 hands to 134870 hands. Shanghai nickel continued to break through the previous high level of the platform, hitting a 4-month high, and then fell back slightly. Shanghai nickel above the 105000 yuan / ton gate is facing resistance, today pay attention to Shanghai nickel may have an adjustment situation.
Tin: support below Lunxi is expected to be around the previous low of $17500 per tonne. It is estimated that the upper resistance is near the 5-10 day moving average of 135700 yuan / ton. Spot market, Shanghai tin main 1909 contract last night short position reduction center of gravity rose, erasing most of yesterday's decline, is expected to quote 135500 to 138500 yuan / ton today.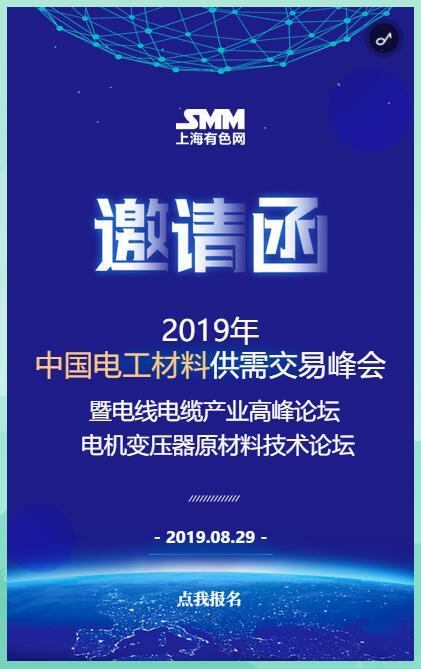 Click to sign up for this summit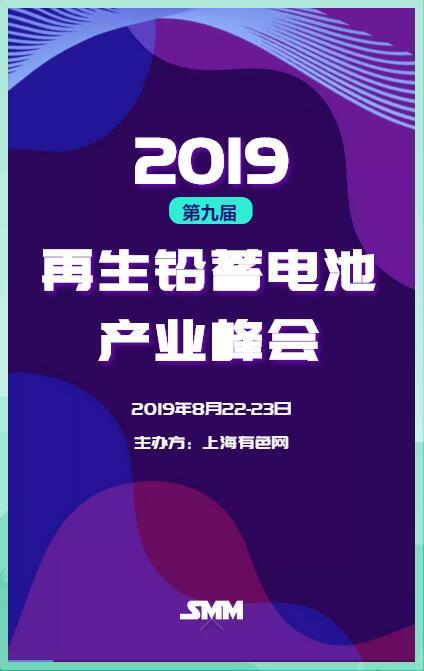 "Click to sign up for this summit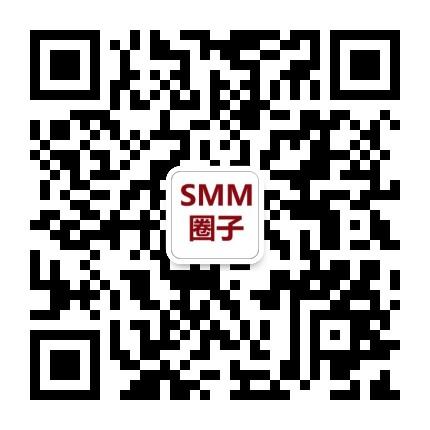 Scan QR code and apply to join SMM metal exchange group, please indicate company + name + main business