[June 20 SMM nickel product price]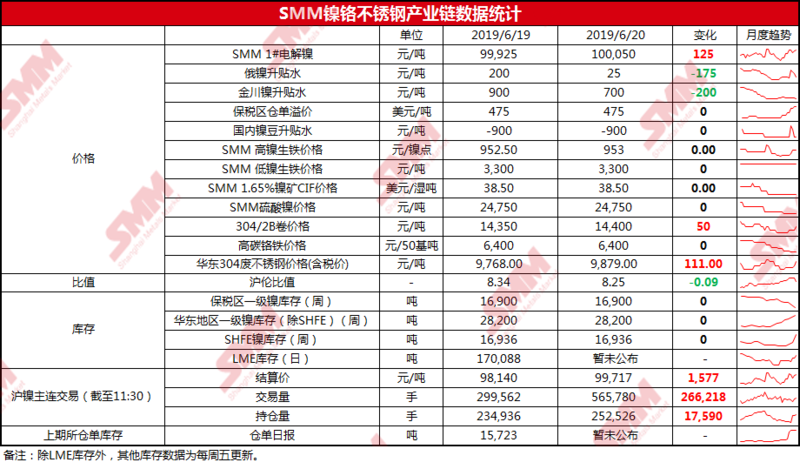 [June 20 SMM nickel market trends]
Electrolytic nickel
Spot: Russia nickel compares Wuxi 1907 level water to liter water 50 yuan / ton in the morning. Jinchuan nickel than Wuxi 1907 contract generally reported 700 yuan / ton of water. Russian nickel and Jinchuan rising water is generally down, traders feedback that the recent spot market supply gradually increased, but this morning the overall market price is higher, downstream consumption is weak, spot market trading is very light, some traders Russian nickel discount in the shipment, but the quantity is not large. Jinchuan Company has also been actively shipping water in the near future. Traders followed the reduction of Jinchuan Shengshui, Jinchuan nickel factory price of 100000 yuan / ton, down 200 yuan / ton from yesterday, the mainstream transaction at 99650 100200 yuan / ton.
Nickel pig iron market
According to SMM research, shipment of nickel mines in Indonesia, which had been affected by floods, resumed last week. Eight heat furnaces in nickel pig iron plants in the Konawe area have been suspended due to floods on June 13, and all production has been resumed. The logistics of nickel pig iron plants in the Morowali area has been affected, but production has not been affected, while factories and mines in the rest of the region, such as South Sulawesi and Obi Island, have not been affected.
Stainless steel market
On June 19, the price of 304-2B four-foot coil in Wuxi market today was 13800-13850 yuan / ton, which was the same as yesterday's offer. Some agents said that recently, due to the rise in nickel prices, stainless steel prices increased by 50 to 100 yuan / ton, but the overall transaction situation of the stainless steel market is not good, downstream demand is weak.
Weekly inventory statistics
[SMM pure nickel inventory statistics]
According to the SMM survey, total nickel stocks in Shanghai, including the previous warehouse receipt stocks, rose 4835 tons, or 8.5 per cent, from last week to 62000 tons. The specific changes are as follows: inventory in East China increased by 2000 tons to 28200 tons compared with last week, mainly due to good import profits in the near future. Bonded areas and long-term arrival goods have been declared to enter the mainland one after another. During the same period, the stocks of refined nickel in Shanghai Free Trade Zone (including Shanghai Tianwei, Ritzit, Lingang, Jiekai and Henry Bath) decreased by 3000 tons to 16900 tons compared with last week.

* subscribe to the SMM Ni-Cr stainless Steel routine report and receive the latest nickel inventory information every Friday. Contact: Zhu Junhui, 13917953839 (same WeChat).
[nickel Industry News focus]
[Taiyuan Iron and Steel Co., Ltd.) according to the product specification adjustment plan of Taiyuan Iron and Steel Co., Ltd., Shanxi Taiyuan Iron and Steel stainless Steel Co., Ltd. plans to convert the existing production facilities of stainless steel rolling mill into a 4300mm wide and thick plate mill production line to produce 700000 t of hot rolled steel plate annually, including 300000 t of stainless steel plate and 400000 t of carbon steel plate. The environmental impact assessment of this project has been announced to the public a few days ago. This project is listed as one of the three key projects in Shanxi in 2019. The other projects are the high-end cold-rolled oriented silicon steel project of Shanxi Taiyuan Iron and Steel stainless Steel Co., Ltd., and the intelligent upgrading project of stainless steel wire production line of Shanxi Taiyuan Iron and Steel Co., Ltd.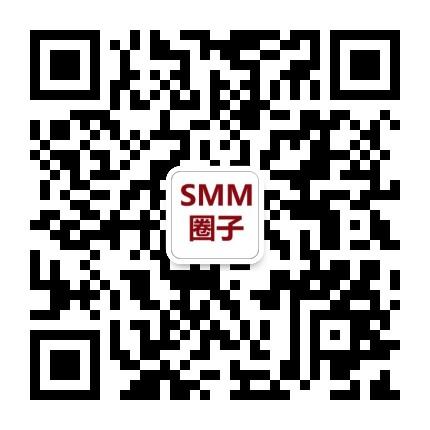 Scan QR code and apply to join SMM metal exchange group, please indicate company + name + main business