SMM5 15-April: China's economic indicators have been released in April, details are shown in the following table.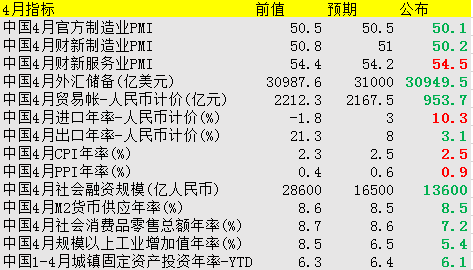 Almost all of them fell back, of which industrial value added fell 3.1 percentage points from the previous month. Indicators of rise included a sharp rise in PMI, import data for Caixin service industry, and a slight rebound in CPI and PPI. This is in sharp contrast to the overall rise in last month's data, as shown in the table below.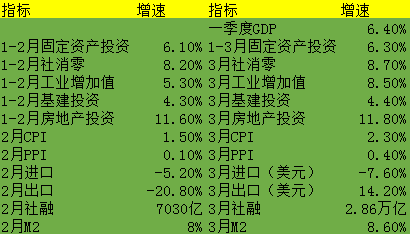 China's economy rebounded significantly in the first quarter, the manufacturing sector returned to the expansion range, the stock market soared, CPI continued to rise, fixed asset investment remained stable, social financing data improved, and Sino-US trade negotiations made good progress.
In April, the implementation of the VAT reduction, the stock market began to shock downward, economic indicators appear loose, the phenomenon of poor momentum in the economic upward, or related to the weakening of the driving effect of the rate reduction. Explaining the sharp drop in industrial value added in April, Liu Aihua, spokesman for the National Bureau of Statistics, said that in order to fully enjoy the benefits of the VAT reduction, many enterprises have actively adjusted their production and business activities in order to fully enjoy the benefits of the VAT reduction. There was a move to stock up ahead of time and speed up production in March, so the April figures look set to fall back a bit. Yang Yewei, a macro analyst, expects another cut in June and July, given rising downward pressure on the economy. On the other hand, the central bank's targeted rate reduction policy for small and medium-sized banks began to fall on the ground today, releasing 100 billion of the funds for the first time, a total of 280 billion of the long-term funds will be released, and all of them will be used to issue loans to private and small and micro enterprises. The above adjustments will be implemented in three stages, and the next two adjustments will take place on June 17 and July 15, respectively.
It is worth noting that M2, the broad money, is still hovering below 10 per cent, which began in May 2017. In 2009, M2 growth reached a growth rate of nearly 30 per cent (as shown in the table below), and then fell rapidly, followed by data such as fixed asset investment, social decline and GDP. In the past two years, with the continuation of financial deleveraging, M2 has stabilized at a single-digit growth rate, indicating that liquidity is not abundant, and it is no longer possible to flood with water in the future. M2 is closely related to the vigorous development of the real estate market. The gradual saturation of the real estate market makes it impossible for the currency to grow sharply, superposing the weakness of demand in overseas markets, which also shows that China's economic transformation is imminent.