SMM5, March 8: at 10:00, the Federal Reserve of New Zealand announced that it would cut its official discount rate, (OCR), by 25 basis points to 1.5 per cent. The New Zealand dollar fell more than 70 points to 0.6533 against the dollar after the Federal Reserve of New Zealand cut interest rates for the first time since November 2016 and hit its lowest benchmark rate ever, the New Zealand dollar fell more than 70 points to 0.6533 against the US dollar NZD/USD. The chart below shows the trend of the official discount rate in New Zealand over the past decade.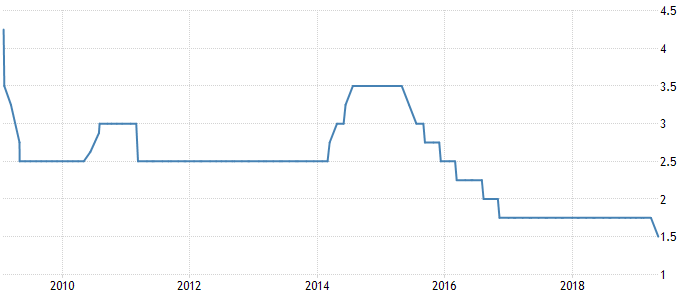 Global economic growth has slowed since mid-2018, easing demand for New Zealand goods and services, and domestic growth has slowed since the second half of 2018, the New Zealand Fed said in a statement. Continued low business confidence, stricter profit margins and competition for resources limit investment, the statement said. Employment is close to its highest sustainable level. However, the outlook for job growth is weaker and capacity pressures are expected to ease slightly in 2019. The statement concluded that, given this outlook for employment and inflation, a lower OCR is now best suited to achieving our goals and provides a more balanced outlook for interest rates.
When it comes to cutting interest rates, India is the first country to start cutting interest rates. As early February, the Reserve Bank of India could not help but cut interest rates by 25 basis points, and in early April, the Reserve Bank of India cut interest rates by another 25 basis points. Egypt, on the other hand, is even more fierce, cutting interest rates by 100 basis points on February 15th. In addition, on May 7, the Bank of Malaysia also decided to cut interest rates by 25 basis points, the first time the country has cut interest rates since July 2016.
I am afraid the significance of this interest rate cut by the New Zealand Fed is not just to add another member of the interest rate cutting army. As a member of the five-Eye Alliance and one of the developed countries, New Zealand is the first to cut interest rates this time ahead of other western developed countries. It means that developed economies are beginning to feel pressure and can't hold up. It can be said that the fig leaf on interest rate cuts in developed countries has been torn off, and then Australia, Europe, the United States, Canada, Japan and other countries may all compete to follow suit. At present, with the exception of the slightly better economy of the United States, other developed countries can only say that there is no worst and only worse. Just last night, Beijing time, the European Union cut Italy's economic growth rate to 0.1% in 2019, the lowest economic growth rate in the European Union, compared with a previous forecast of 0.2%. Cut Germany's GDP growth forecast for 2019 from 1.1 per cent to 0.5 per cent, the second-slowest economic growth rate in the eurozone, and warned of eurozone risks.
So it was a minute to cut interest rates, but no one dared to be the first. Now that New Zealand has taken the lead, other countries have no scruples. With the outbreak of more black swans in the world in 2019, there may be a period of intensive interest rate cuts.