SMM News: this morning, "Beijing, Tianjin and Hebei and surrounding areas 2018-2019 autumn and winter air pollution comprehensive control action plan" red-headed document released. The objective of this key project is to promote the continuous improvement of air quality on the basis of consolidating the achievements in the improvement of ambient air quality, between 1 October 2018 and 31 March 2019, The average concentration of fine particulate matter (PM2.5) in Beijing, Tianjin and Hebei and its surrounding areas decreased by about 3 per cent compared with the same period last year, and the number of days of severe and above pollution decreased by about 3 per cent compared with the same period last year.
The main task of the "Program" is to strictly implement the special emission limits for atmospheric pollutants from thermal power, iron and steel, petrochemical, chemical, nonferrous (excluding alumina), cement industry and industrial boilers from 1 October 2018. We will promote the upgrading and upgrading of pollution control facilities in key industries. The red line of ecological protection will be completed by the end of December 2018. In the main task, it is also mentioned that it is necessary to speed up the relocation, transformation, closure and withdrawal of heavily polluting enterprises in urban built-up areas, and promote the implementation of a number of relocation projects for cement, glass, coking, chemical and other heavily polluting enterprises.
In addition, it is necessary to strictly control the production capacity of the "two high" industries. In 2018, the reduction of iron and steel production capacity in Hebei Province was more than 10 million tons, that in Shanxi Province was 2.25 million tons, and that in Shandong Province was 3.55 million tons. On the basis of ensuring the stable supply of electricity and heat, the elimination task of 38 277MW coal-fired small thermal power units has been completed in the region. Hebei and Shanxi provinces have started the coke oven phase-out work with a height of 4.3 meters or less and a service life of more than 10 years. Hebei, Shandong and Henan provinces should step up the elimination of independent coking enterprises in accordance with the goal that the ratio of coking capacity to iron and steel production capacity should not be higher than 0.4 by the end of 2020.
The scope of implementation of the plan is "226" cities in Beijing, Tianjin, Shijiazhuang, Tangshan, Handan, Xingtai, Baoding, Cangzhou, Langfang, Hengshui City, Taiyuan, Yangquan, Changzhi, Jincheng City, Shanxi Province. Jinan, Zibo, Jining, Texas, Liaocheng, Binzhou, Heze City, Henan Province, Zhengzhou, Kaifeng, Anyang, Hebi, Xinxiang, Jiaozuo, Puyang (including Dingzhou City, Xinji City, Hebei Province, Jiyuan City, Henan Province).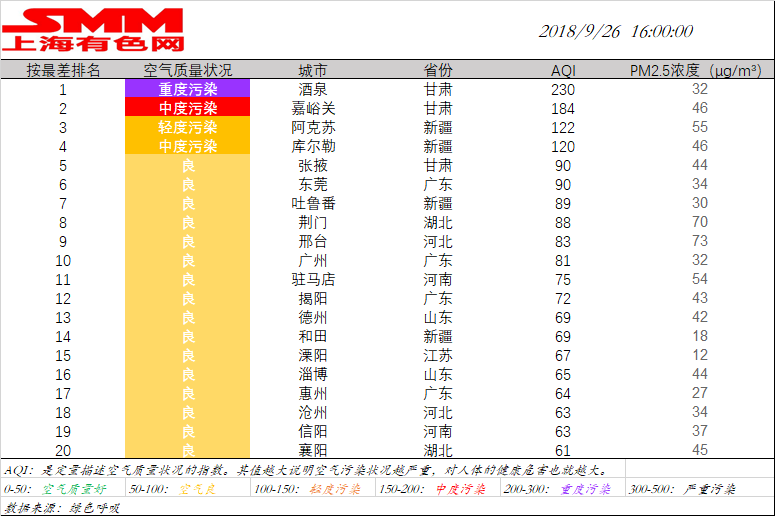 SMM exclusive Air quality report
SMM commented that the document is more concerned with air quality standards and regulatory issues. The SMM exclusive air quality report shows that the recent significant improvement in air quality in Tangshan is basically out of the bottom position, and if it can be maintained, Tangshan area production restrictions may not be expected.
The ban on "one size fits all" production restrictions have also been mentioned many times in major media and press conferences that the adjustment of the comprehensive air pollution control plan for autumn and winter in Beijing, Tianjin, Hebei and surrounding areas has already had an impact on the market, and steel prices have been suppressed. The current black market is relatively stable, the downstream site pre-festival replenishment has also been close to completion, the need to pay attention to the afternoon inventory data.
Consult the information consultant Lu 021 51595781