Wednesday November 16, 2016 17:22
Although we are expecting a pullback any day, the U.S. dollar rode higher against the euro on the day, up around 0.40%. The rise affected all sorts of markets, although curiously, the bond market saw face values rise finally and yields slip a bit.
Spot gold was down about 0.30% afternoon while the gold futures contract price rose infinitesimally.
In all, there were mixed signals coming from the haven play-sector with the greenback off against the yen but up against the Swiss franc.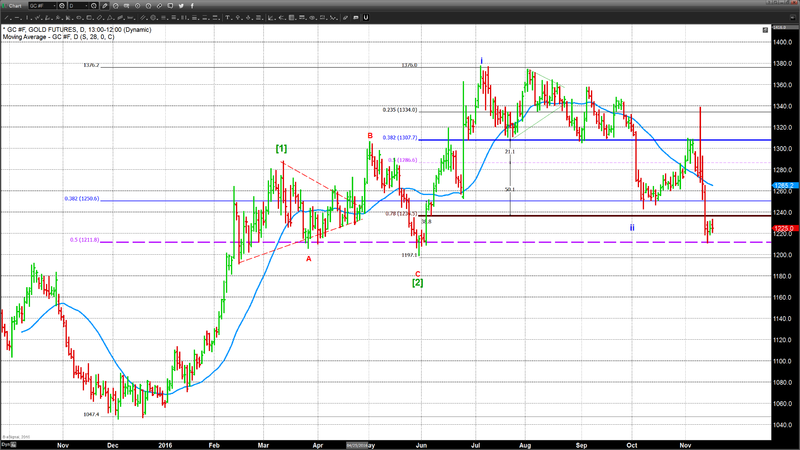 In economic news, the October read on U.S. producer prices were unchanged They were expected to rise 0.3%. Industrial output was also stagnant in October.
There was worrisome indicator from the housing world. Mortgage applications have fallen 9.00% very recently as mortgage rates rise. Now, this may be a wringing out of less creditworthy applicants who simply stopped bothering to try the application process. The Home Builders index held steady, although that would not have been measured in time to feel the mortgage pinch.
Equities markets around the world were mixed to down with Europe most negatively affected. Indexes there were off anywhere from 0.65% to 0.80%. The Nikkei was up more than one percent but Hong Kong and Shanghai fell just in the red zone.
U.S. markets were mixed, tending lower. The NASDAQ was up as the so-called FANG stocks recovered and gave the tech-heavy index some momentum. The Dow and S&P 500 were off 0.35% and 0.25% respectively.
Oil cannot seem to get much positive traction. West Texas Intermediate was down by 0.70% and Brent North Sea was down by a full percentage point. Some renewed hope for an OPEC deal on production level controls supported prices. A spike in stockpile levels – 3.5 million new barrels versus an expected 1.5 million barrels – put pressure on prices.
Some of the decline was also due to a round of profit-taking following Tuesday's strong rise.
For those who would like a deeper analysis, I invite you to try our daily video newsletter. Simply use the link at the bottom of this report to sign up for a free trial.