SHANGHAI, Dec 2 (SMM) – Refining charges (RCs) for seaborne blister copper again trended downsides in November to $125-135/mt on a cif basis, down $12.5/mt on the month, weighed by an appreciated Chinese yuan in the middle of the month.
Monthly RCs for domestic blister copper, meanwhile, fell at a slower pace by 50 yuan/mt, to 1,000-1,200 yuan/mt in November, according to SMM assessments.
Spot trades in the blister copper market were subdued last month as market participants awaited negotiation results of 2020 benchmark RCs from major copper smelters Jiangxi copper and China Nonferrous Metal Mining in early December. Raw material suppliers pay RCs to refineries to process blister copper into refined metal.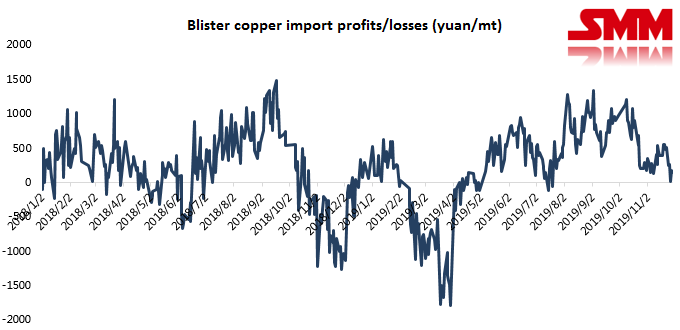 Most domestic companies expected the 2020 benchmark RCs for imported blister copper at $130/mt.
It was also estimated that Jiangxi copper and Canadian miner First Quantum Minerals set RCs at around $120/mt in their long-term contracts for 2020.
SMM expects Jiangxi copper and China Nonferrous Metal Mining to agree on the 2020 benchmark RCs for seaborne materials at $125-130/mt.
Most domestic smelters have expressed their concerns about blister copper supply next year, especially after Chinese copper smelters and US miner Freeport-McMoRan agreed on the benchmark copper concentrate treatment charges (TCs) at an eight-year low of $62/mt for 2020.
Current TCs have driven most domestic smelters into losses, SMM learned.