SHANGHAI, Nov 29 (SMM) – With 2019 drawing to a close, SMM presents a series of webinars on the non-ferrous metals market forecast in 2020. Our analysts will share their insights on what's trending in the non-ferrous metals Chinese domestic markets, as well as providing their analysis on the fundamentals that affects demand and supply.
What's trending in the Chinese domestic aluminium market?
Production of primary aluminium in China is expected to grow much faster than consumption in 2020. According to SMM senior aluminium analyst Lucy Liang, stronger supply pressure is weighing on aluminium prices in the coming year.
"Output of primary aluminium in China is estimated to increase 2.5% to 36.44 million mt next year, after shrinking 1.51% this year. Aluminium consumption in China will also pick up, albeit at a much slower pace of 0.3% to 36.19 million mt, from a decline of 1.48% in 2019," Liang said at the recent China Nonferrous Metals Industry Annual Meeting 2019.
Liang added, "With 1.99 million mt of capacity online in the first 10 months of the year, there was 40.69 million mt of primary aluminium capacity built in China as of the end of October on an annualised basis, and 35.1 million mt was in operation."
SMM data showed that social inventories of primary aluminium ingots, including SHFE warrants, have fallen below 800,000 mt, due to limited arrivals and decent consumption.
Supply pressure looks underwhelming in the short term, in anticipation of limited capacity expansion as Chinese smelters put off the resumption of idled facilities.
From a long-term perspective, fundamentals are deteriorating as the latest SMM survey showed that aluminium downstream consumption in November to December is weakening from the traditional high season September and October.
On the other hand, alumina capacity expansion in China and technical upgrading are set to maintain imports of bauxite at high levels in 2020, but the growth will be slower.
Chart 1: China aluminium manufacturing PMI (September and October 2019)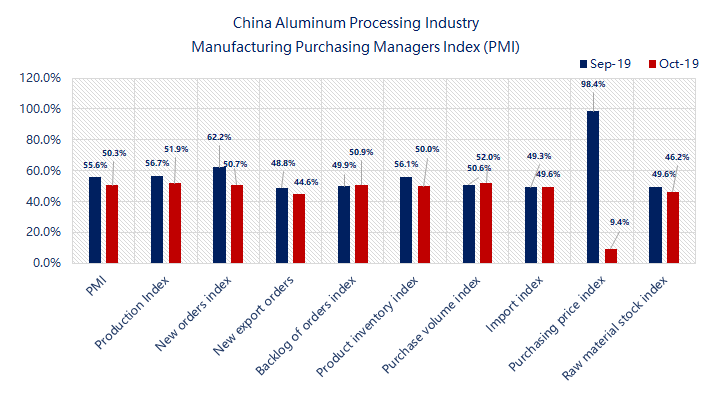 Source: SMM
Chart 2: China aluminium processing industry manufacturing PMI (September 2019)

Source: SMM
Webinar focus
1. How cashflows, local subsidies and profitability will impact the commissioning schedule of aluminum smelters in China?
2. Updated forecast of operating capacity changes of aluminum smelters in China from Q4 in 2019 to Q1 in 2020.
3. How the importing of bauxite and alumina will make a difference in alumina production cost and profitability in China?
4. Forecast of operating capacity changes of alumina refineries in China from Q4 in 2019 to Q1 in 2020.
Webinar Details
Date/Time: Thursday, December 5 2019, 4:00 PM CST
Webinar Link: https://attendee.gotowebinar.com/register/2120449259294852619