According to SMM, as of Friday, the spot price of electrolytic manganese in China has shown a negative decline as a whole. Some manganese factory manufacturers in the southern region said that the current market mainstream quotation is about 11000 yuan / ton, and the actual transaction price range is 10900-11000 yuan / ton, while the futures price is concentrated in 10800 yuan / ton, of which the futures of the long Association (December delivery) are signed at 10700 yuan / ton, aiming at the current price downward. Many businesses believe that manganese prices in the future continue to be weak.

The situation of steel recruitment at home and abroad in November, which has ended, reflects that the purchase prices of electrolytic manganese, manganese ingots and manganese balls in many steel mills have different ranges, with a drop of 150-300 yuan / ton. In addition, Posco, South Korea, announced the tender price of electrolytic manganese in December. The main port of CIF in South Korea was 1537 US dollars / ton, down 43 US dollars / ton from November. The total tender amount of electrolytic manganese was 4845 tons, a sharp increase of 2850 tons over November. Of these, Busan (Busan) 1995 tons, Gwangyang (Guangyang 2850 tons, delivery date before December 15, 2019 (grace period allowed 10 days).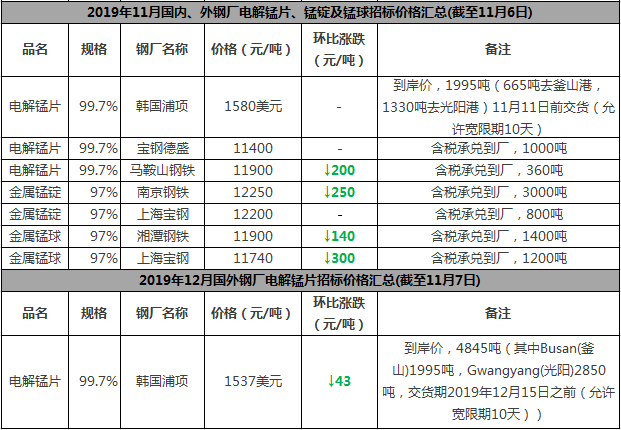 SMM believes that although the South Korean Posco December electrolytic manganese purchase volume significantly increased in November, but by the price of port delivery price in 11200-11300 yuan / ton appearance, if deducting sea freight, electrolytic manganese including tax ex-factory price in 10900 yuan / ton, so we can see that the manganese market is not optimistic, cost support is limited, the short-term market trend is still not very optimistic.