1. Platinum investment products provide a variety of convenient ways for physical platinum investment.
Investment platinum products is a covering term, which refers to two kinds of investment products with common characteristics-platinum bar and platinum coin, and the purity of 99.95% is the key standard. Both platinum bars and platinum coins provide a direct and widely available way to add physical platinum investment products to the portfolio. Especially when these platinum bars and platinum coins come from national mints such as the Royal Mint or the American Mint, investing in platinum investments also gives investors a guarantee of their origin and quality.
Due to the convenience of trading, investment platinum products also provide good liquidity for investors, their value comes from the purity or "color" of platinum, as well as the current price of platinum spot market, and slightly adjusted according to manufacturing costs and supplier profit margins.
The purity of platinum bars is as high as 99.95% and is produced by refiners who meet the stringent requirements of the London Platinum Palladium Market, which is the world's leading platinum investment trading center. Investment platinum products come in a variety of sizes, usually per gram or troy ounce, and can be delivered to the door or stored in a special vault. The specifications are usually suitable for very small platinum bars, with a minimum starting price of £20.
Platinum investment coins are made of 99.95% refined platinum, including globally recognized American eagle coins and Canadian maple leaf coins. However, platinum coins are minted less frequently than gold coins. In fact, no mint in the world issued new platinum coins for more than a decade until 2016.
Since then, with increased awareness and appreciation of platinum, platinum has prompted mints around the world to launch a series of "first" new platinum investment coins. The Royal Mint and the Austrian Mint are currently producing platinum investment coins: the former produces platinum coins from the British Goddess and the Queen Beast, while the latter issues platinum coins from the Vienna Philharmonic.
Investors will have more options next year as the Royal Mint adds a platinum falcon coin to its Queen's Beast series and Perth Mint launches its first hard platinum coin as part of its Australian Moon series III.
Although precious metal investment coins are not in circulation, they are legal tender, which gives it further authenticity and tax breaks for the purchase of precious metal coins in some countries. Therefore, their face value is much lower than the actual market value of precious metal materials. For example, American eagle coins have gold and platinum coins with denominations of $50 and $100, respectively.
2. Potential benefit
Platinum bars and coins have been sources of platinum demand, averaging about 300000 ounces a year since 2013. In addition to investment convenience and liquidity, investing in platinum in the form of platinum bars and platinum coins is attractive to investors because it is not as credit or counterparty risk as stocks or bonds. Adding platinum to the portfolio also has the benefit of diversifying.
The relatively low price of platinum and the large premium on gold have supported demand for investment platinum products in recent years. In some jurisdictions, such as the United States, investment platinum products can be included directly as assets in pension plans.
A grand event for thousands of people in China's non-ferrous metal industry
Shanghai colored net (SMM) annual meeting is the annual event of the metal industry, with an annual participation scale of thousands of people, domestic and foreign metal industry people gathered together to review and summarize the experience and harvest of the year, and lay the groundwork for the production, operation and operation of the coming year.
This year's "2019 China Nonferrous Metals Industry Annual meeting and 2020 (SMM) Metal Price Forecast Conference" was jointly created by SMM and China Renewable Resources Industry Technology Innovation Strategic Alliance and Shanghai Nonferrous Metals Industry Association. At the same time, the first "China Renewable Metals Industry chain Development Summit Forum" was held, and SMM metal price forecasting conference and waste battery recycling exchange were set up for you to enjoy. From the development of non-ferrous metal market to the recycling of renewable resources, from the detailed explanation of policies and systems to the research and development of industrial chain technology.
This is not only a meeting, but also an industry exchange of information, collision thinking sparks of brainstorming!
"Click to sign up for SMM Annual meeting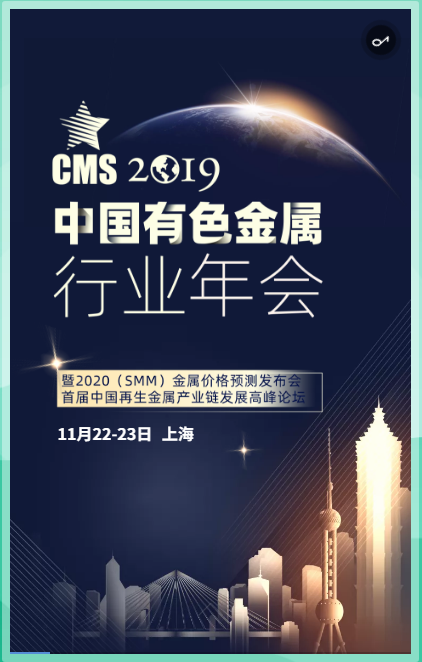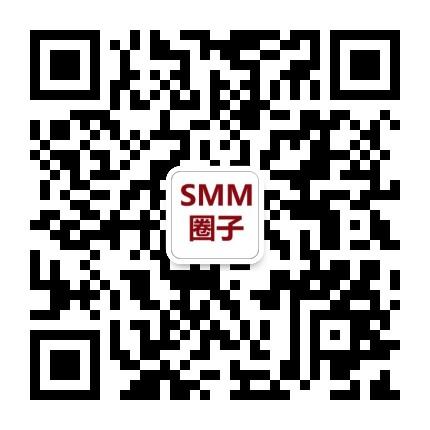 Scan QR code, apply to join SMM metal communication group, please indicate company + name + main business