SMM News: spot platinum XPT successfully broke through the resistance level of $920 on the last trading day in August, rising for several consecutive days, breaking through $1000, becoming a remarkable precious metal black horse. However, in recent trading days, platinum prices fell back to about $940 an ounce as a result of preferences in European and American economic data and adjustments in precious metals.
Many investors who are concerned about platinum have asked me, "is platinum worth buying?" How much can I buy when the price is revised back? How much can it go up this year and how high can it be in the long run? "
Frankly, I am not a trader and there is no way to return to technical market issues. The only clear answer to investors is that, from a long-term asset allocation point of view, platinum of more than $900 an ounce is not expensive and is still worth buying. As for what prices can rise and short-term market trends? I can't suggest.
So how do you invest in platinum and seize market opportunities? Let's start with a little story. At the end of August, when the platinum market was launched, I talked to a domestic platinum group metals expert about the current market situation. The boss, who has been deep in the platinum catalyst industry for more than 20 years, is a believer in platinum value. Many of his clients and friends also asked him if it was worth buying platinum. He gave them a piece of advice: first look at rhodium and palladium, platinum at this price can be bought with closed eyes, and then sit and wait to double, do not go to see the price trend every day.
I asked with a smile that the price of platinum can be doubled? He sent me a five-year price chart of rhodium gold, saying that one of his good friends believed in the long-term value of rhodium gold at more than $500an ounce (31g). He bought dozens of kilograms of rhodium powder for investment, and has been selling it for about $5000. The friend has just bought all the rhodium money for platinum.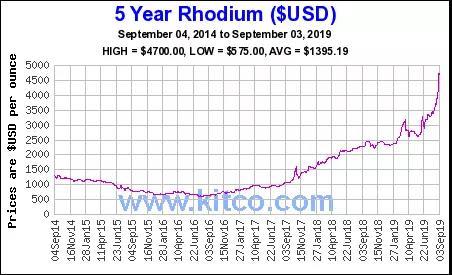 Rhodium gold has risen tenfold in five years!
In fact, platinum investment is so simple, its long-term supply and demand fundamentals determine the value. Investors should first do more homework to understand the changes in supply and demand in the market. Many investors may not know that the average mining cost of platinum is more than $800. Over the past few years, miners have struggled because of depressed platinum prices. According to our news, many domestic platinum companies have fallen to $800 this year, boldly buying and hoarding goods when they hit a new low in 15 years. In recent years, many investment and research institutions are looking at platinum, which is also one of the reasons why platinum prices are under pressure. But platinum is a precious metal with mining costs, and the market has a valuable repair mechanism. When the market hits rock bottom, its value is undervalued but goes unnoticed, especially when it is "spurned" by many institutional analysts, investors might as well buy and put it away, just like the clever investor in the story hoarding rhodium gold. Next, don't focus too much on market volatility. When the value of platinum returns, the investment is bound to surprise patient long-term investors.
Like investing in stocks, Buffett does not keep an eye on the market every day. His only hobby is to read corporate research papers and understand the fundamentals of listed companies. Buy undervalued assets when others are afraid, and sell overvalued assets when people are feverish.
In the last article, "A long-lost sun line allows investors to re-examine platinum fundamentals and investment value," I helped investors interpret the five logics that support platinum's rise. This logic can be found in our WeChat public platform (search for "WPIC Platinum Investment" or WeChat: WPICChina) published market research and industry news to find data and empirical support. Friends who are interested in investing in platinum products might as well study it.
For friends who consider allocating platinum as a long-term investment, here, I would like to make a few suggestions:
First, leveraged platinum futures are not suitable for ordinary investors because market volatility is the enemy of leveraged products. Second, futures products have rollover costs, which will devour investment income. Therefore, futures leveraged products are more suitable for professional traders.
Second, platinum in the accounts of major domestic banks is very suitable for individual investors, it is linked to the spot price of platinum overseas, and there are no warehouse fees, it is the first choice to hold products for a long time.
Third, physical platinum bars are another good option. Although platinum bars have processing costs and repurchase discounts, they can be seen and felt to satisfy the preferences of conservative investors, which is why many investors choose to buy gold bars rather than account gold.
Finally, I hope you can adhere to the value of investment, seize the rare platinum investment opportunities in the past decade!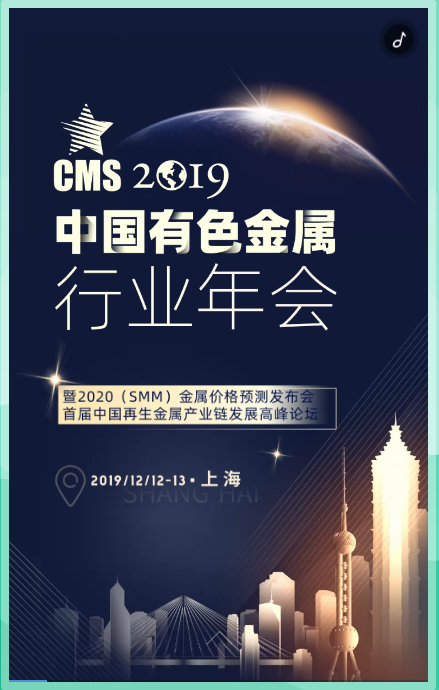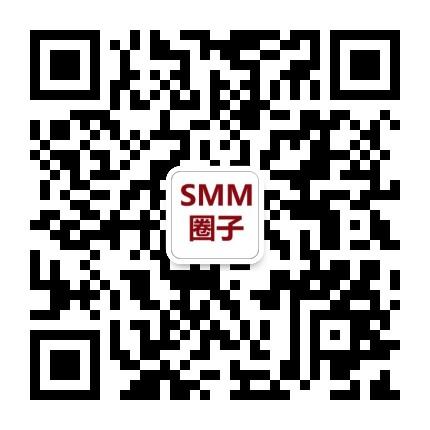 Scan QR code and apply to join SMM metal exchange group, please indicate company + name + main business