SMM News: new energy vehicle sales showed negative year-on-year growth for the first time in July, down 48 per cent from June this year, according to the Federation.
Needless to think, the reason for the decline must have been the "frenzied buying" before the new energy vehicle subsidy in June.
According to media reports, taking the number of pure electric vehicles in June as an example, Jiangling new energy increased more than 6 times from the previous month, Changan cars increased nearly 9 times from the previous month, while Dongfeng cars increased by an astonishing 28 times compared with the previous month. After being overdrawn so much in advance, Cui Dongshu, secretary-general of the Federation, predicted that the high growth of the new energy vehicle market later this year will be difficult to reproduce, and it is estimated that it can only be a small or even negative growth.
Is the car market overdrawn by the "five countries and six switching" terrible, or is it terrible to subsidize the new energy car market after the retreat?
Perhaps even more "terrible" is the determination of the major car companies to transform their motorization without hesitation.
Recently, both GM and Volkswagen have said they have "abandoned" hybrid cars and shifted most of their future investment to the electric car markets in China and Europe.
GM, for example, plans to launch 20 all-electric vehicles around the world over the next four years, including Chevron and Cadillac, while Volkswagen has pledged billions of dollars to produce more battery-powered models.
Wave after wave of motorized investment by car companies has quickly "extinguished" one case after another of electric car fires.
Although we can see this as a necessary stage in the development of new things, consumer confidence should not be overdrawn prematurely. The pursuit of speed and quantity should be based on quality and safety.
Speaking of speed, the "showdown" between Tesla and Volkswagen in Shanghai seems to be about to take place.
At SAIC Volkswagen's recent 21 million launch ceremony, an elegant white Langyi pure electric version slowly stepped down the production line. This is clearly a clear signal to the Chinese market that Volkswagen's electric car is coming.
On that side, the SAIC Volkswagen MEB plant, which opened only last October, has also received the news that the main structure of the factory is about to be completed. It is reported that all the equipment of the plant will be installed in place in October this year as planned, and the first sample car for trial production in November will be officially taken off the line.
This is not good news for the Tesla factory in Jinqiao. Because Tesla's first domestic model is also trying to put into production by the end of this year.
At a time when competitors are seizing on home-made machines, Zheng Xiancong, one of Weilai's co-founders, has put a big question mark on the prospects of the new car force.
Although Li Bin, founder of Weilai Motor, said in an internal email that Zheng Xiancong would continue to serve as his personal adviser and chairman of Weilai Drive Technology after his retirement. But when it comes to the departure of executives from several core positions earlier, coupled with the impact of the recent recall, the challenges facing the electric car start-up appear to be more difficult than before.
However, Wei Lai should not lose heart. Xu Changming, deputy director of the National Information Center, has said publicly many times that from the data of car ownership of a thousand people, there is still a lot of room for growth in China's car market.
This week, the World Bank released data on car ownership per thousand people in 20 major countries in 2019, ranking 17th on the list with 173vehicles per 1000 people in China.
It also seems to explain why in the first half of the year Tesla worked hard to sell products to 37 countries to win the throne of No.1 sales, followed by BYD, which was the third largest Renault-Nissan alliance in terms of sales of new energy vehicles in China and the United States alone.
Of course, with the increasing competition in the Chinese market, Chinese brands are becoming more and more ambitious to "sell" to the world.
In fact, although the sales and market share of most Chinese brands are still declining in July, the soaring export volume should not be ignored.
Geely's exports, for example, grew by more than 59 per cent to 3989 vehicles in July, while the Great Wall did well, exporting 7403 new cars, up 69.48 per cent from a year earlier.
There is also SAIC's July production and sales report, SAIC General Wuling Motor Indonesia Co., Ltd., which joined SAIC General Wuling Motor Indonesia Co., Ltd., this year's cumulative sales rose 162.77% year-on-year to 9959 units. More notably, Mingjue Automobile India Co., Ltd. also began to join the report, selling 2088 vehicles in July.
"although the market competition is cruel, but really has the strength, can grasp the trend, the courage to change the enterprise, certainly can come out." So said Chen Hong, chairman of SAIC Group.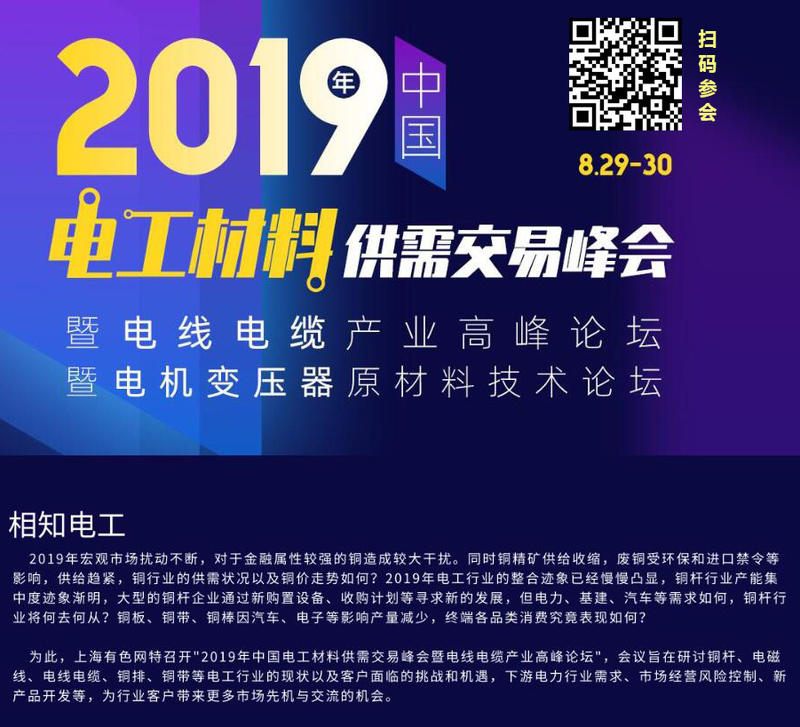 "Click to learn more and sign up for the 2019 China Electrical Materials supply and demand Trading Summit"